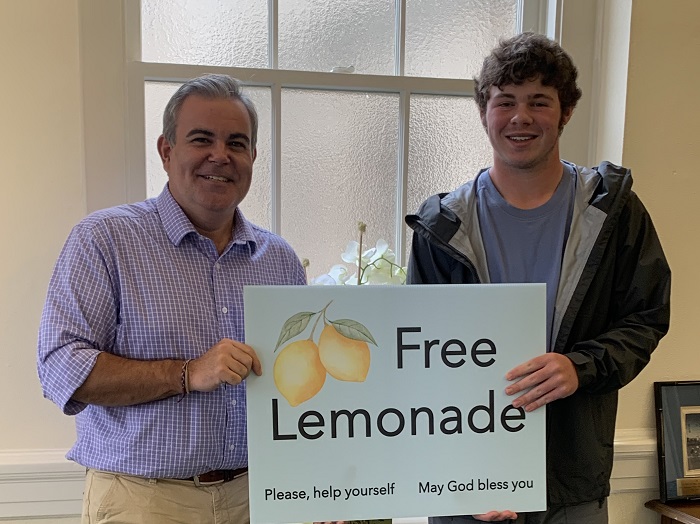 BY BRANDY TEMPLETON
West Miller has a heart for helping others, especially the area's homeless community. When he has the opportunity, the teen provides those who are less fortunate with food and money.
Recently, he teamed up with his pastor at First Presbyterian Church of Statesville to make sure everyone has access to a cool drink whenever they are in Downtown Statesville.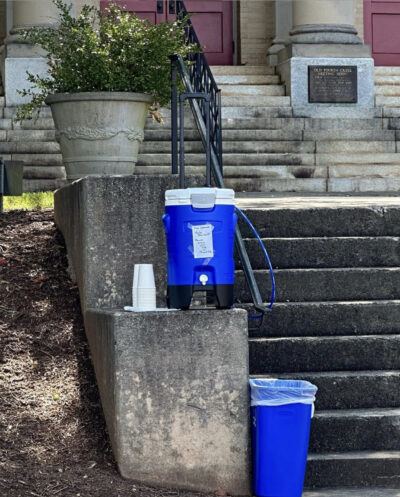 Along with Reverend Jeremy Cannada, Miller has established the Blue Bucket Lemonade Ministry. It's a simple but meaningful gesture of kindness that involves making sure a large cooler in front of the church at 125 N. Meeting Street is always full of cold lemonade. Several congregation members and others are helping sustain the effort.
"It's for people who want lemonade — anyone can come and get a cup on a hot day," Miller said. "I just want to put a smile on their face."
"It's for the indigent or homeless, but it's also for the people waiting in line at the DMV or just walking around downtown," Cannada added. "It's a cup of hospitality."
Miller, 13, was confirmed on Easter Sunday. The Davidson Day freshman explained that he's helped people since he was a little boy. Sometimes that means giving $5 to a homeless guy and sometimes it means giving them food from his parents' car.
The idea for the new ministry was hatched after Miller and Cannada attempted unsuccessfully to track down a homeless man and provide him with a plate of food.
"It was a miserably hot day," Cannada shared.
Typically, First Presbyterian partners with Iredell Christian Ministries and Fifth Street Ministries to assist others. This type of personal outreach is new for the church.
"West instigated it," the pastor said, "but he's a very humble kid."
The former American Renaissance School and Statesville Montessori School student just wants to show kindness and love to others.
"I can't express in words how good it makes me feel," he explained. "Sometimes it's just the littlest things that turn out to be the biggest."
Cannada said the new ministry provides a way to serve. He hopes the initiative inspires others.
"I'd like to see some of the other churches do similar things," Cannada said.
Miller hopes they can keep the ministry going and keep helping show God's love.
"I wouldn't want it to stop," the teen said. "I just want to let it grow out of kindness of the heart. I just want to keep it going and see how far it can grow and how long it can go."