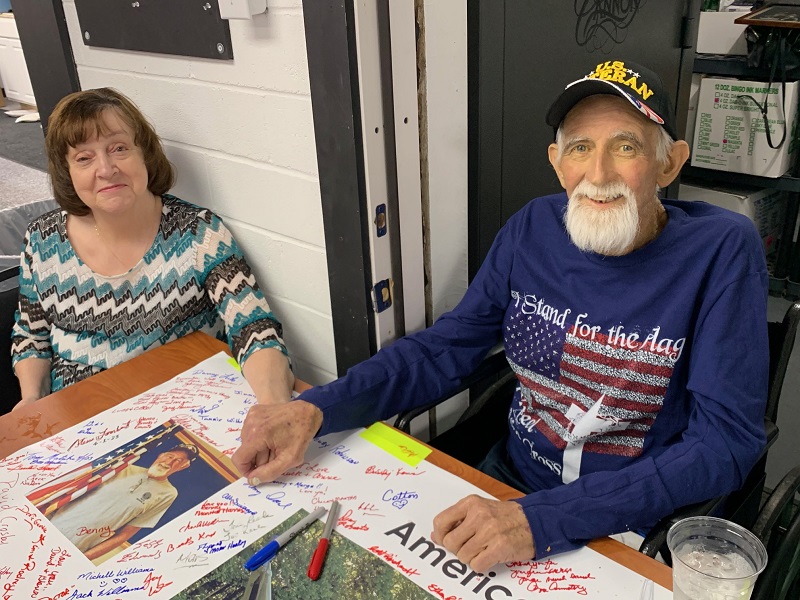 BY BRANDY TEMPLETON
Benny Wilhelm has spent decades giving his time, service and resources to help others.
On Saturday, dozens of people let the Cool Springs resident and Vietnam veteran know just how much they appreciated his friendship by attending an event in his honor at American Legion Post 65.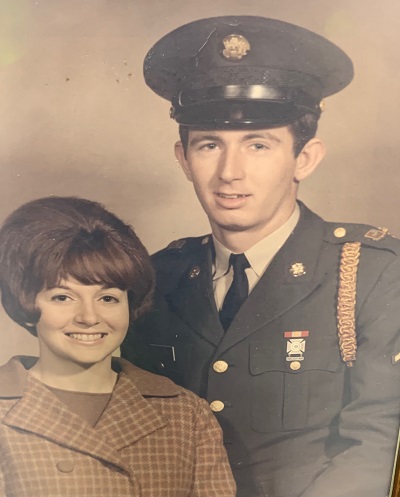 Wilhelm, 74, is battling cancer for the third time and is now in hospice care.
He was one of an estimated 2.6 million U.S. military servicemembers who was exposed to Agent Orange, a herbicide used in Vietnam to clear vegetation the enemy used for cover. Exposure has been linked to numerous cancers.
Wilhelm battled prostrate cancer in 2003, followed by liver and lung cancer in 2015. Now, he has a tumor on his liver that has totally encapsulated it.
He's trying to enjoy whatever time he has remaining with family and friends. But he's still helping other veterans.
"He's helped veterans get benefits for years," fellow post member Randy Fultz said, tears welling in his eyes. "Just two days ago he was helping another one of our members."
Emily Lambert and Amy Wilhelm shared memories of their dad and how proud they are of his legacy of helping others.
Lambert said that growing up, her dad made the most of his days by giving to others, including his family.
"There's nothing that we or our children could do that he wouldn't support us," Lambert said. "Whether it was changing the oil or providing maintenance to our cars, picking us up when our cars broke down, assisting the Boy Scouts, or helping kids learn to shoot a bow."
Wilhelm lives to serve others, Lambert said, calling her father "the perfect example of the hands and feet of Jesus."
The dedicated New Salem UMC member's faith has been the driving force in his life. And he has a huge heart for helping veterans.
"He lives for this post," Lamber explained. "His heart is here. This is what he enjoys the most— serving here, working here."
On Saturday afternoon, while sitting beside Linda, his wife of 56 years, Benny's face lit up and he clapped his hands while listening to The Nostalgia Band, which frequently provides entertainment for Post 65 events.
Friends and strangers came by his table to sign a banner of support while wishing the pair well and thanking Benny for his service and contributions.
Andy Mullins served alongside Benny in the same unit in Vietnam.
"I have so many good memories with Benny," Mullins said. "We played cards together and always stuck together."
They shared several funny moments and survived many scary experiences while serving overseas. Once, near the Cambodian border, a drunken American soldier tried to shoot them with a grenade launcher, Mullins recalled.
"Luckily, it was on safety and they tackled him," he said, laughing at the memory. "That was over 50 years ago, but it doesn't seem like 50 days."
Those memories, he said, "don't leave your mind."
Mullins called Benny "the best of friends," saying they've always stayed in contact.
"I think the world of him," he said.
Jeff Edwards is another long-time friend. He and Benny used to work together at Fiber Industries in Salisbury.
"I've known Benny for 40 years," he said. "He helped me start an archery club called Rowan County Bow Hunters."
Edwards said he and Benny became close friends through the club and enjoyed deer hunting together over the years.
"He's one of the greatest teachers of kids — he had a patience that nothing ever bothered him."
Evans remembers traveling all over the state. Every where they went they met people who knew Benny.
"You can ask him for anything," he said. "I don't know of anybody you can ask about him and they'll give you a negative answer."
Photo Gallery