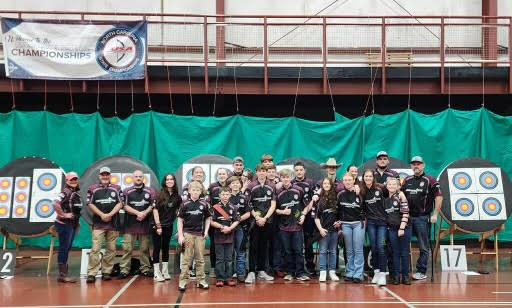 Special to Iredell Free News
The Cornerstone Christian Academy archery team competed in the N.C. State Championship in Reidsville on Saturday.
Seventeen archers from the Statesville school finished in the top three in their respective categories, and four team members claimed state championships.
Many of these students qualified for the national tournament, which will be held next month.
The following Cornerstone Christian Academy archers placed in the state championship:
♦ Matthew Lackey: State champion
♦ John Carter Matheson: State champion
♦ Nora Isenhour: State champion
♦ Josh Palmer: State champion
♦ Konner Shearman: Runner-up
♦ Ethan Erwin: Runner-up
♦ Arabella Rapp: Runner-up
♦ Ellie Palmer: Runner-up
♦ Sophie Sadowski: Runner-up
♦ Nicholas Denny: Runner-up
♦ Wyatt Doby: Runner-up
♦ Timothy Toney: Runner-up
♦ Makayla Jenkins: Runner-up
♦ Alyssa Jenkins: Runner-up
♦ Ethan Isenhour: Third place
♦ Harmony Toney: Third place
♦ Ashlyn Buchanan: Third place
♦ Khloe Sadowski: Fourth place
♦ Cj Griffith: Fourth place
♦ Michael Dolby: Fourth place