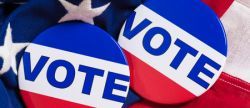 FROM STAFF REPORTS
All seven candidates for three contested seats on the Statesville City Council in the October 10 election participated in a forum on Wednesday at the Iredell County Government Center.
The forum was sponsored by the Iredell County Democratic Party. You can watch the forum HERE.
Ward 1
The Ward 1 race features incumbent David Jones and challenger Kevin Sullivan.
Jones, a Statesville native and real estate broker, discussed the importance of managing growth in the coming years.
"If we don't get it right, we're going to have problems that could have been avoided," he said.
The incumbent said it's critical that the council adopt and follow a strategic plan to guide this growth. He also praised the Statesville Police Department for its use of the FLOCK camera system, which has led to numerous arrests, and for ramping up efforts to prevent crime in hot spots.
Sullivan, who owns a financial services industry, said he moved to Statesville two years ago to get away from the traffic congestion in Mooresville, where he works and where he lived for about 10 years.
As a councilman, he would make it a priority to ensure that the city has all of the necessary infrastructure in place to meet the industrial and residential development that is in the pipeline. If elected, he promised to bring a pragmatic approach to the council and said his professional background would pay dividends for the city.
"I promise you I will bring a fiduciary role to this city council," he said. "That's what I do day in and day out."
Ward 4
In Ward 4, incumbent Amy Lawton is being challenged by Jennifer Thorson Difiore.
During her first term, Lawton said she has focused on keeping taxes as low as possible and supporting the city's crime prevention initiatives. She also touted the $1.1 billion in industrial development that has occurred or is in the works in the city in recent years — as well as the recent 8 percent salary increase the council approved for all city employees.
"I think we're heading in the right direction," she said. "I want to continue doing that."
Difiore, an educator and mother of five, said she would bring a fresh perspective to council and pledged to work to increase funding for the Statesville Police Department and be a champion for the Recreation & Parks Department. She also stressed the importance of the city working with Iredell-Statesville Schools.
"I want to do what I can to make Statesville the best it can be," she said.
Ward 6
In the Ward 6 race, incumbent Frederick Foster is opposed by Lisa Pearson and Jonathan Mayes.
Foster, who is completing his first term, made attracting a grocery store chain to his ward the focal point of his first campaign. He has been unable to convince a majority of council members to invest public dollars in the project and a consultant said it is unlikely that a major chain will locate in the area, but Foster continues to make that a priority.
"We're still not where we need to be," he said.
In the coming years, Foster said the city should work to provide public transportation to residents who cannot afford to purchase a vehicle.
"How can you get to work if you don't have decent transportation?" he asked.
Mayes, who said he was once homeless and lived in a tent, said his priorities are addressing the affordable housing crisis and being a champion for at-risk youth in the community.
"It's time to fight for these neighborhoods, fight for these kids," he said.
Home ownership is now unattainable for a large percentage of the population, Mayes said, and rents are skyrocketing.
"I can't afford a house, and I'm out here working my butt off to support my family," he said.
Pearson, a social worker, mother of two and current president of the Statesville High School booster club, also focused on the need to attract affordable housing and provide public transportation. She said she would work to help small businesses in Ward 6 and improve communication between the city government and residents.
"I want everybody in the community to thrive," Pearson said. "I want everybody in the community to get to work."
Voting
Early voting began Thursday and runs through Saturday, October 7. The early voting location is the Iredell County Elections Office, located at 203 Stockton Street in Statesville.
Election Day is October 10. The polls in Wards 1, 4 and 6 will be open from 6:30 a.m. to 7:30 p.m.