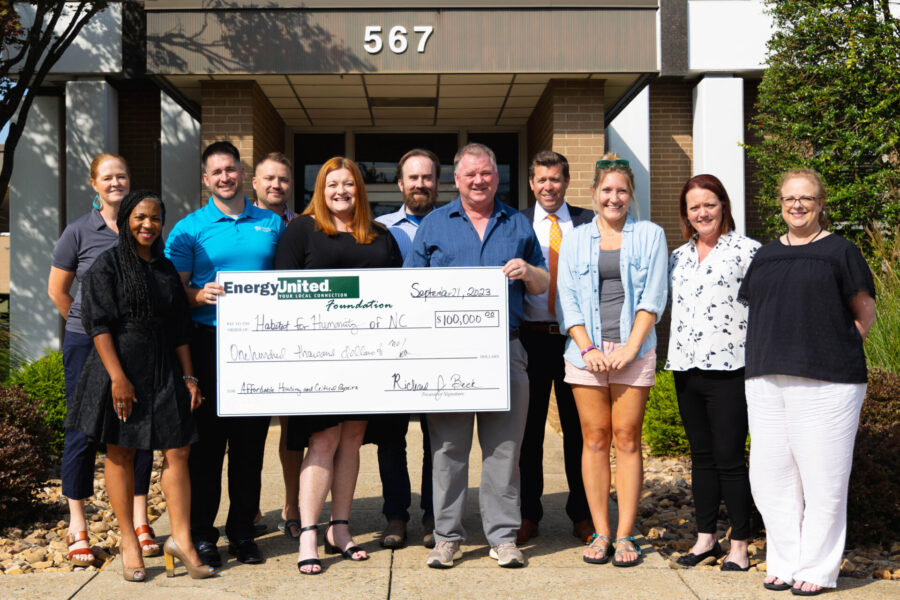 Special to Iredell Free News
The EnergyUnited Foundation has made an historic $100,000 donation to Habitat for Humanity.
This grant, which will be equally distributed to the 16 Habitat for Humanity affiliates working across EnergyUnited's 19-county service area, will support the organization's vision to build a world where everyone has a decent place to live – bringing people together to build homes, communities, and hope.
"We are thrilled to partner with Habitat for Humanity to create lasting, meaningful change in so many communities," said Debra Citta, program coordinator for the EnergyUnited Foundation. "This donation will support Habitat for Humanity's efforts to build affordable housing and offer financial education to families striving for homeownership."
The $100,000 grant will be distributed equally to the following Habitat affiliates: Alexander County, Cabarrus County, Caldwell County, Catawba Valley, Lexington Area, Davie County, Forsyth County, Gaston County, Greater Greensboro, the Charlotte Region, Lincoln County, Stanley County, Randolph County, Rowan County, Stokes County and Hometown Habitat (Wilkes, Yadkin).
"We are very grateful to receive this generous donation from the EnergyUnited Foundation," said Matt Cooksey, board chair of Habitat for Humanity North Carolina. "This donation will help us serve even more families in need, and together with key community partners like the EnergyUnited Foundation, we can create brighter futures and stronger communities."
The EnergyUnited Foundation is a voluntary, member-funded non-profit organization supported by EnergyUnited's Operation Round-Up program. Nearly 85,000 EnergyUnited members choose to participate in the program by 'rounding up' their electric bills each month. The maximum monthly contribution for an individual member with one account is 99 cents. Each of these contributions are pooled together in a single fund managed by the EnergyUnited Foundation to support needy individuals, families, and essential nonprofit organizations that complete an application explaining the reason and purpose for their requested grant.