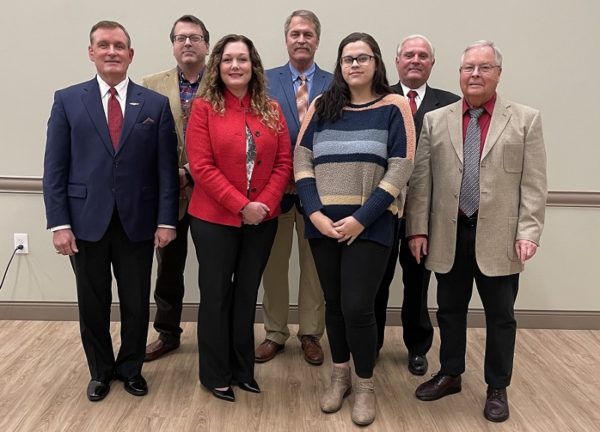 IFN Investigation: Board members held 50 meetings via text message over five-month period starting in late March
BY MIKE FUHRMAN
All but one member of the Iredell-Statesville Schools Board of Education participated in dozens of secret meetings via text message between March 25 and August 30, continuing a highly questionable practice that began last December.
Iredell Free News has obtained copies of the latest text messages, which total 125 pages. Every board member except Charles Kelly participated in the secret meetings, which occurred on 50 different dates.
These meetings came on the heels of 32 meetings held between December 19, shortly after four new members were sworn in, and March 19. Kelly, the most experienced member of the board, also chose not to participate in the earlier meetings.
Board members denied any wrongdoing after news reports about the earlier text messages.
North Carolina law prohibits a quorum of board members — four or more in the case of the I-SS Board — from meeting and discussing official business unless the board has provided notice of the meeting and then meets publicly in open session. State law makes no distinction between in-person meetings and meetings held electronically, according to an analysis by the UNC School of Government.
The board's latest text messages do not include the type of incendiary comments made in the earlier texts that were aimed at Statesville High School students, where a large percentage of students are minorities, and members of the LGBTQ community. In previous text messages, board members Anita Kurn and Brian Sloan joked about making money by forcing Statesville High students to fight in a Thunderdome. Vice Chair Mike Kubiniec, board member Abby Trent and Kurn also made disparaging comments about individuals who identified as LGBTQ.
Following publication of those comments in an earlier news report, the board has been publicly criticized during its meetings and in letters to the editor for what many view as racist and homophobic comments. As of Friday morning, 595 people have signed an online petition calling for I-SS board members to resign.
In the latest round of secret meetings, board members held lengthy discussions via text about the Iredell County Board of Commissioners' reluctance to fund the new Weathers Creek High School, about what they perceived as mistreatment by the commissioners and about their disdain for Iredell Free News. The emails also shed light on Kurn's strained relationship with Trent, along with Kubiniec, Sloan and Kurn's interest in removing books with they deem inappropriate content from district libraries.
The full range of topics is unknown because school board attorney Dean Shatley redacted numerous sections of the document before it was provided to Iredell Free News earlier this month.
Kubiniec is the most frequent commenter in the latest text messages followed by Doug Knight, Kurn and Sloan. Chairman Bill Howell and Trent commented less frequently.
Highlights
Here are some highlights from the latest secret meetings:
♦ ON MARCH 17, during a discussion about a contractor that provides substitutes, teacher assistants, and bus drivers, Kubiniec expressed his frustration with the company's screening procedures.
"Do you have recourse against these companies for bringing you clowns?" the vice chair asked. "Fees?"
♦ ON MARCH 29, school board members vented to Superintendent Jeff James and each other about having to go before county commissioners to formally request funding for the new Weathers Creek High School.
Kubiniec: "Why do we have to present it? You sent it to them — right? Should be a done deal."
Howell: "It is like we must be received by the king" (with crown emoji)
Kubiniec: "Ahhhhhh. We are not worthy….."
♦ ON APRIL 3, Sloan brought up Rep. Jeff McNeely's support for charter schools. The superintendent and Knight also weighed in on the topic:
Sloan: "McNeely on the air with charter schools."
James: "He loves them. The(y) train no students in trades at all. We and MGSD DO all of our trade kids."
Knight: "Unfortunately becoming a two-tiered education system if we're not careful going forward"
James: "Charters and Vouchers are going to destroy career technical education. None of these prepare kids for the world of work"
♦ ON APRIL 6, Kurn took a shot at Trent, accusing her of violating school board policy by sharing confidential information with her mother:
Kurn: "Just a reminder that discussing things that are disclosed in closed session is a violation of school board policy."
James: "Yep"
Kurn: "Even if it is your mother!"
Trent: "What a lovely thing to wake up to! Not sure what this is about. But whatever your personal issues are with 'my mother' should probably be addressed with her. Have a good day guys"
♦ ON APRIL 18, before Iredell Free News published text messages from the board's earlier secret meetings, Chairman Howell issued a warning to other board members about their text messages as they were discussing an IFN article about the district's $200 million funding request for the new high school.
Howell: "Ladies and gentlemen be very careful what you say. The school system has been asked to provide text and email when we are talking"
Comments before and after Howell's warning were redacted by the school board attorney.
♦ ON APRIL 22, after sharing a link to an IFN article reporting commissioners were unlikely to approve the district's $200 million request, Kurn texted the group about a possible avenue for working around commissioners, which started a long exchange among board members and the superintendent:
Kurn: "What steps does the school district need to take to get taxing authority?"
She also questioned whether commissioners' statements about I-SS having 700 open seats were true.
The vice chair, meanwhile, began a discussion about I-SS Board members needing to start controlling the public debate about the new school:
Kubiniec: "Thoughts about scheduling a meeting to publicly talk through some options? Like academic only. Or dedicate the May 1 meeting to this? Can we afford to sit back and do nothing and wait on the CCs? We can't count on the CCs to move this forward IMHO. … Get public feedback to … Do a public session like the CCs do"
Knight: "So the County Commissioners are negotiating in public it appears. This could have been handled without getting the media involved"
James: "Sure, it's called politics."
Knight: "They are fishing I think for a new option addition to the three we presented them. They took the most (extreme) scenario and are trying to make it the only scenario. Pure political play"
Kurn: "We need to address these behind the scenes arguments that the CCs continue to spread to the public."
James: "But back channels I am told ($120 million) they will approve, and again we have three years to build the FF and E. I know Beth has called Duke and Johnson"
Kubiniec: "We need to play offense here — special meeting"
Knight: "I think even if we address those they're going to hang their hat on 200 million to say unless we give them another option but that's my opinion"
Kubiniec: "We should want public comment and buy in"
Knight: "200 million number will lose every time. That is my read of this County and the County Commissioners but is my opinion"
James: "Yes, I think we do a big publicity push and do it at SIHS"
Kubiniec: "Move FF&E and sports construction out and we can start bidding essentially right now."
James: "Agree Doug, I hoped they would have thrown out a number. … And yes to Mike"
Kubiniec: "If the public buys this — we're golden"
Knight: "I think they are looking for a way out and if we don't give it to him they will nuke the whole project with a bond referendum in 2024"
Kubiniec: "We drive it then, not the CCs."
Knight: "I don't think the public in Iredell County will buy 200 million dollars for the school, no matter how hard we push but that my opinion"
Kubiniec: "Special meeting May 3 or 4th. Advertise it. Build it up. Talk about what we are talking here. … If we and the public get behind academic only and push FF&E out WITH a plan to pay for this later, then we do another resolution"
Knight: "If we have a meeting we need to have a very specific objective and one that is doable"
James: "Yes"
Sloan: "Probably shouldn't invite me"
Kurn: "In the next CC meeting Tim could present the forecasted numbers for enrollment and ask where are we going to put these children"
Knight: "I'm not worried about (filling) a room I'm worried about convincing three out of five people. Not trying to be negative not my nature but this is an uphill climb with the current numbers"
Knight: "Brian we need North Iredell on this and for this as best we can"
Kubiniec: "Brian — if you could bring in 20-30 farmer types from North who would support this — case closed. The CCs would feel this."
James: "The public needs to hear as they pay taxes. And I and my team at some point will send all facilities complaints to the cc, it's their legal responsibility"
Kurn: "North, if it is not their school then the rest of the county gets the middle finger"
Kubiniec: "Public invite the CCs to the meeting to sit in the peanut gallery. See who comes."
Knight: "Jeff you know this County. 120 million is palatable enough to get three votes I think. But we've got to do a good sales job to get that."
Kubiniec: "We should bring in food for the meeting. Two things bring the public to a meeting: controversy and food. We can make this meeting fun. I believe we can present a good story/plan to run with."
Kurn: "We all know that the bids are going to come in low so lets just placate and lower the price"
Knight: "Address their concerns get it down to 120 and then be ready for the questions of why didn't you do this in the beginning. I can hear it right now."
James: "The 120 is what they are only willing to do … We had to ask for the estimated amount, it's their job to say we cant do this but can 120"
Knight: "I think you're right jeff. But negotiating in public like this it just really is not good and I'll leave it at that"
James: "…If all bids come back high then we're back to square one."
Knight: "Then why didn't they do that in the beginning. Just seems like bad politics and maneuvering so people don't yell at them for actually spending money on something that's needed in the county a school rather than new Fairgrounds"
James then commented on the increased cost of Jennings Park. Commissioners have approved more than $30 million for that project.
Kurn: "Oh really? Are they going pro like our Taj Mahal? Oh, the irony."
Kubiniec: "Let's not be afraid to talk about all of this in public. We should never underestimate the public, their views, opinions and ideas. If we get their support, and I believe we will, the tables get turned."
Knight: "Get it down to 120 give them their political cover and we get a school built … Just a crappy way to start a Saturday"
Sloan: "I've been driving. I can not get any farmers to come that supports this. I DO NOT SUPPORT THIS! North end does not give the middle finger to anyone! We are apparently smarter or work harder for our money. Do not blame this mess on my district."
Kubiniec: "What would you get behind?"
Kurn: "Good question Mike! I would like to hear suggestions as well instead of just shooting down everything!"
Kurn then asked the superintendent to help get Sloan and Trent up to speed, a suggestion that was not well received.
Sloan: "So we can get up to speed???? Lol"
Kurn then requested a reality check from other board members.
Trent: "I do not support this project at $200m nor the wasting of taxpayer dollars. We were elected to make decisions in the best interests of the people, not our own. It is clear what will and will not be supported by cc … I have discussed it in depth with several of you, my point of view on this and it has been laughed at and ignored. You all know my stance and how I feel about this"
Kurn: "Okay dear."
The chairman blamed Iredell Free News for the whole controversy. Forcing children who currently live in the South Iredell High School district to attend schools in the Statesville area was not the solution, he added.
Howell: "I don't think anyone has laughed at anyone point of view sorry you feel that way. IFN just want to start controversy so they can get readers do not let a media outlet interfere with our relationship. PLEASE. Concentrate on the positive. ISS gives taxpayers more bang for there buck than most school systems top 5 I believe. How are the parents of the children going to feel if we send their children to West or Statesville. I have asked the superintendent for a resolution for a new elementary school in the South. Would you choose early college and IB?"
Kurn: "They may not leave us a choice Bill."
Howell: "If that happens our school system goes backwards."
♦ ON APRIL 24, Kurn posted an article titled "Republicans advance bill requiring Texas public schools to display ten commandments":
"We need this in NC!" she wrote.
"Absolutely. Let's vote. All schools and administrator buildings," Sloan replied.
♦ ON MAY 3, Knight posted an IFN article reporting that Iredell commissioners had rejected the district's request for up to $200 million for new I-SS high school.
Knight: "So the number is $120 million. We can start bid now. They throw some barbs back from the comments Monday night. But the goal of a number was achieved. Success. In my opinion anyway."
Howell: "My passion was missinterpreted as angry. I was not angry, but I could say a lot more that would be news worthy and create a hail storm. I will not let's see how things go. I was told they were worried that I might bring legal action. I hope you all (know) that I can not without a board vote."
♦ ON MAY 5, board members had a discussion about whether multi prime or single prime contractors would be used for the new high school.
Sloan said he wanted subcontractors to be able to bid on "grading, concrete, electrical, plumbing, block work, ect."
♦ ON MAY 11, the superintendent warned board members that their text messages were a public record:
James: "We have and do receive numerous public record request weekly. I did want to let you know 2 came in asking for emails and texts regarding board communications"
Knight: "Can I ask who from?"
James: "Multiple agencies but yes IFN would be one"
♦ ON MAY 18, Iredell Free News published an article detailing the board's secret meetings between mid-December and April. Board members were unimpressed.
Knight: "Yeah I just wonder if I comment on it what happens :-)"
Kubiniec: "Haha"
Howell: "Take words out of context for the dramatic. I may comment but it certainly won't be for this publication. Would the board like to respond as a group?"
Knight: "If we agree, would that be a meeting?? Seriously."
Kubiniec: 'Obviously, it was a hit piece. Dr. James initially set this text group up to pass certain info. I think that was good. I also think this is worthwhile for discussions but I do not believe we did anything improper — we were not reviewing matters before the board, voting and making decisions. We didn't do that. Yes, I think we should respond. Not sure what form: individual statements of just one statement? Written? Or at the next board meeting. I am open to all ideas."
Howell: "I think we need to ask Dean to write a legal response, then any board member who would like to respond can."
Kubiniec: "OK"
Trent: "I'd prefer to be left out of a group response if that is what's chosen. If I do choose so, I will make my own statement. Thanks"
Howell: "Mike Furman is not a lawyer or a Judge. My attempt is to take us out of any liability. I would never include you if you were against the group."
Howell: "We pay for legal advice either you want included or not you are on the board and you have been accused of breaking state law. Now I would certainly let you read a response. If we have legal status. I feel intent matter's, but I am not a lawyer either."
♦ ON MAY 19, as the discussion of the Iredell Free News article continued, the superintendent offered his perspective and advised the board that other news agencies were also interested in the text messages. James also advised the board board that attorney Dean Shatley had "redacted quite a bit" from the board's text messages.
James: "Just my two cents, several reporters and news calling. I can't stop you from talking to them, but it will not be a good story. They are looking to pile on. Again my two cents."
Howell: "A lie makes it half way around the world before the truth can puts it's pants on"
A large redaction followed those comments.
♦ ON MAY 23, Kubiniec recommended a board appearance at Statesville High for the upcoming Longest Table event.
Kubiniec: "Anyone going to the dinner at SHS tonight? Should we go as a measure of good faith "to face the community"?"
Kurn: "I am going"
Knight: "I have visitors from out of state coming in this evening"
James: "Speaking at the event"
Howell: "I can't go but you do need tickets right. United Way event.
Kubiniec: "cost? requested donation?"
James: "Zero"
♦ ON JUNE 7, Kurn posted an IFN article, "I-SS Board member asks for 'grace' following news reports that board members met secretly via text message"
♦ ON JUNE 12, Howell told board members that he declined the opportunity to comment for the IFN article. "I said no comment I believe it (made) him angry," he wrote.
♦ ON JUNE 17, the chairman brought up efforts to remove books from district libraries.
"I'm all for taking a book out of a media center, but I say be careful that is a slippery slope," Howell wrote.
Comments below this viewpoint were redacted by the board attorney.
♦ ON JULY 13, in response to posts that were critical of I-SS from various school groups, the superintendent updated the board on his efforts to resolve issues related to youth sports associations being charged to use district facilities.
James: "I am working on this, actually since Tuesday"
Kurn: "Very good, thank you"
James: "I sent an email with a solution"
Kubiniec: "Just to be clear – at this point – this is FYI to the board – right? I don't think it would be appropriate for us to comment or deliberate via electronic means so as to avoid circumventing opening meeting rules."
♦ ON JULY 31, two days after the superintendent reported that North Iredell Middle had been struck by lightning, the vice joked about open meetings concerns:
Kubiniec: "Be careful Dr James. Latest IFN headline: Lightening Strikes School. Board Talks About It."
♦ ON AUGUST 13, the vice chair warned the board to expect criticism from local Democrats at their next meeting.
Howell's response: "No problem if that smart one opens his mouth when someone else is talking I will have him removed."
♦ ON AUGUST 17, Kurn posted the agenda for the Catawba County Schools Board meeting and an excerpt from "Beyond Magenta: Transgender Teens Speak Out."
James replied that the book was not shelved in I-SS libraries.
Kubiniec: "It will be interesting to see how the just passed parents bill of rights bills affect our school policies and what changes may be needed."
James: "Very little. We already are in line or close."
♦ ON AUGUST 19, Kurn posted a headline proclaiming "American Library Association president says being a 'Marxist lesbian' is 'really important to me'
Kubiniec: "I saw that a few weeks ago. ALA is no doubt the reference source for quality books in our school. Hmmm. Or not."
Additional comments on this date were redacted by the board attorney.
♦ ON AUGUST 26, Kurn posted a headline from thefederalist.com announcing: "ALA Chief Is On A Crusade To Stock Libraries With Porn."
Howell's response: "Not in NC"
A large section of comments was redacted following this comment.
Other Topics
Also included in the text messages were updates about CDC guidance on COVID-19 vaccinations and conversations about making sure I-SS schools were protected from active shooters. Board members also asked the superintendent to ask law enforcement to conduct sting operations on businesses that sell vaping products to underage students.
The superintendent also shared information about a kitchen fire at a school, actions the district took to protect students as the result of an air quality warning, and storm damage at several schools. Meanwhile, the chairman kept the board updated on renovations to the North Iredell High football stadium.

Related Content
IFN Investigation: Iredell-Statesville Schools Board of Education violated N.C. open meetings law more than 30 times
Viewpoint: An Open Letter to the Iredell-Statesville Schools Board of Education
Letter to the Editor: Iredell-Statesville Schools Board of Education members have demonstrated they are unfit to serve
Viewpoint: This is what happens when voters elect partisan extremists to the school board
Letter to the Editor: Working at Statesville High School is a blessing
Statesville Branch NAACP expresses concerns about I-SS Board of Education's secret meetings, calls board members' comments 'racist' and hurtful'
Viewpoint: Statesville High students call out I-SS Board of Education for illegal meetings, jokes promoting school violence and attitude toward LGBTQ community
I-SS Board member asks for 'grace' following news reports that board met secretly via text message
Statesville resident launches petition drive to pressure I-SS Board members to resign over secret meetings, hurtful comments