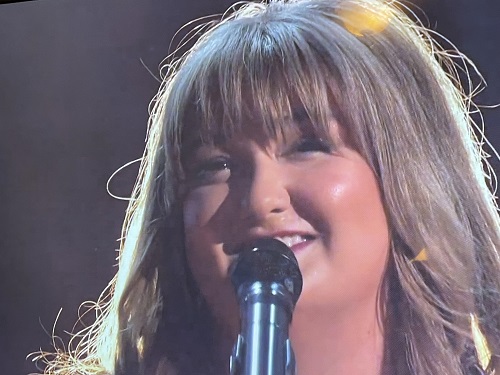 FROM STAFF REPORTS
Statesville native Dani Kerr delivered a soulful performance in an appearance on "America's Got Talent" Tuesday night that had the crowd cheering and two of the judges looking for more.
"I love that you stayed true to yourself," judge Sofia Vergara said.
"I love you, I love your voice," said judge Simon Cowell, before adding that he felt like she missed the chance to give them a "moment." Judge Howie Mandel agreed with Cowell, saying he thought her audition was "far better."
The crowd clearly disagreed, meeting the less-than-positive feedback with boos and cheering when judge Heidi Klum said she loved Kerr's "unique, distinctive voice."
Now Kerr's fate rests in the hands of voters, as she faces a live show Wednesday night where nine of 11 contestants will be eliminated based on voting by viewers. The voting opened Tuesday at 8 p.m. and closes Wednesday morning at 7 a.m. To vote, download the AGT App or visit NBC.com/AGTVote.
During her Tuesday night performance, Kerr chose to sing "The Truth," an original song.
"The big dream for me has always been to play my original music," Kerr said. "Every word I sing, I want it to mean something."
She also sent her love to her many supporters back home in Statesville, saying "I feel so thankful … I mostly feel thankful for Statesville, my hometown, being the whole reason I'm here."
Earlier this week, Kerr shared on social media her gratitude for the experience the show has provided her and the support her fans have shown.
"It really has been a lot for me to wrap my mind around, so I've just been enjoying every moment of this ride. The 'America's Got Talent team' is the absolute best to work with, and they make this process a lot less scary than it could be!" Kerr said. "I can't thank everyone enough. I am fully aware, that the only reason I am here is because of all of YOU! Thank y'all for entrusting me with spreading peace, love and light amongst the world. I hold it as an honor, and will continue to do so!"
Kerr was voted through in an emotion-filled first round that aired on June 20, and saw Klum and Mandel compare her to the likes of Stevie Nicks and Dolly Parton. She also received a second chance from Cowell, who declared "You have one of my favorite voices this year" after hearing her second song.
The musician is well known on the local music scene for her unique blend of soul and rock. Kerrr performs solo and with bandmates as Dani Kerr & The Skeleton Krew.
She has faced her share of struggles, including periods of homelessness during high school. Those experiences, she wrote in her bio, "gave me a lot of strength and power, having to go through that. I think that's really helped my music. I feel thankful for the bumpy road that has led me here."
LEARN MORE
To learn more about her music and what's next for Kerr, visit www.danikerrmusic.com.
How to Vote for Dani Kerr