FROM STAFF REPORTS
A woman accused of scamming several people, including the family of a terminally ill child, out of charitable donations has been extradited to Iredell County to face prosecution on felony charges.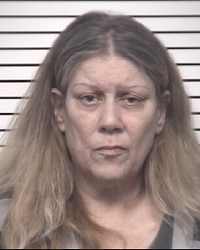 Tammy Ann Domenick, 53, faces eight counts of obtaining property by false pretenses following an investigation by the Iredell County Sheriff's Office.
Sheriff Darren Campbell said the ICSO began investigating after receiving reports from multiple victims who said they were scammed out of charitable donations. The victims believed they were donating to a medical fund for a juvenile who had been diagnosed with a terminal illness, Campbell said. It was later discovered that Domenick, who set up the fundraising efforts, had taken a majority of the donation funds and left the state, Campbell said.
According to the news release, Domenick befriended the sick juvenile's family after meeting them online. She offered to set up a fundraising campaign for the family to help pay for medical expenses, Campbell said.
Domenick represented herself as a marketing and social media professional from the New York area with experience in fundraising, the sheriff said. She told the victims that she planned to host a major event in Mooresville called "LKN Fest" to help raise charitable donations for the family, according to the news release.
Several individuals and vendors in the Mooresville area offered to participate in the event. The vendors and the family later learned that the event was not what Domenick had advertised and the family received no money from donations, Campbell said.
ICSO Economic Crimes Unit Detective C. Scannella was assigned the case and started interviewing the victim's family, numerous vendors, and sponsors that were supposed to participate in "LKN Fest."
Detective Scannella made contact with Domenick, who stated she was no longer in North Carolina and had moved to California. Detectives learned that Domenick had deactivated all of her business's social media pages and had moved to Arizona and started a new company that was identical to the one she had in North Carolina.
Based on the evidence gathered throughout the investigation, Scannella obtained warrants charging Domenick with six counts of felony obtaining property by false pretenses and entered her as "Wanted" by the Iredell County Sheriff's Office.
The detective contacted authorities in Arizona and informed them that warrants had been issued for Domenick's arrest.
Domenick was located and arrested without incident.
After a long extradition battle, Domenick was returned to North Carolina on Thursday, May 18. She was taken before Magistrate Callejas, who issued a $200,000 secured bond on the six counts of felony obtaining property by false pretense.
Detective Scannella obtained more evidence in the case, which led to two additional charges of felony obtaining property by false pretenses and received an additional $10,000 secured bond from Magistrate Nethken.