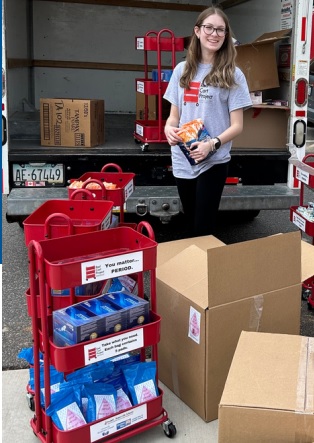 Special to Iredell Free News
Period Poverty Awareness week is May 22-28, and the Mooresville Kindness Closet is hitting the road in Iredell County to deliver 200,000 period products to all schools in Iredell-Statesville Schools and the Mooresville Graded School District.
Aimed at reducing period poverty in Iredell County schools, the Mooresville Kindness Closet launched the Red Cart Project in Fall 2022 in partnership with United Way of Iredell County.
Red craft carts stocked with menstrual products are currently in nine school bathrooms throughout each campus. The program has distributed over 26,000 products to students this school year.
During Period Poverty Awareness Week, products are being distributed to an additional 34 schools in the county and "take home kits" are being provided to students in need of supplies over the summer months. A total of 200,000 period products are being distributed.
Caroline Mautner, a junior at Lake Norman High School, is helping organize this effort to raise awareness as a volunteer with Mooresville Kindness Closet.
"It's important for all students to have period products in school especially if they cannot get them anywhere else. School is a place of support for many and having these products helps them succeed," Mautner said.
Research shows that one in four students have struggled to access enough menstrual products necessary to stay in school. Lacking these basic necessities, which are not covered by SNAP or other services, can force families to choose between the period products they need or food, putting their health in jeopardy. The impact of period poverty causes feelings of embarrassment, disappointment and depression.
"We are so thankful and appreciative for the Red Cart Project. Menstrual products are a necessity and not something that should be considered a luxury. Students should not have to miss class because they have to walk across campus to the nurse office, or even worse, miss school because they don't have the products they need. Thanks to the Red Cart Project, students are able to go to the restroom and have the supplies they need and return to class as soon as possible," said Karen Kerley, Lead Nurse at Iredell Statesville Schools.
Additional deliveries of period products will be made to local non-profits including HealthReach Clinic, FeedNC, and Mooresville Christian Mission