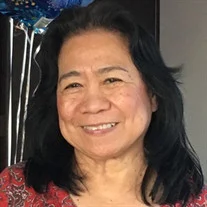 Ligaya Kates, 73, passed away Wednesday May 17, 2023.
Ligaya was born in Dumaguete City in the Philippines on January 23, 1950, to the late Jose Aguirre Mandoza and Jesusa Montenergro Luba Mandoza. She was a loving and devoted wife, mother and grandmother. She married Wade Kates, and they were together for 43 until her passing. Ligaya received her Masters in Business Administration from Gardner-Webb University in 2004. She worked for Hanesbrands Inc. as a Specialist Data Engineer before retiring on January 20, 2016. Ligaya loved attending church and tending to her garden. Family was very important to her; she especially enjoyed spending time with her grandsons.
She was preceded in death by her parents
Ligaya is survived by her husband, Wade Kates of Statesville, N.C.; daughter, Christina Connolly of Statesville, N.C.; sisters, Filipinas (Ningning) Halford, Viluz Palma and Lilia (Nonoy) Reformina, all of the Philippines; brother, Tomas (Belen) Mendoza of the Philippines; grandsons, Caden Connolly and Dominic Connolly; niece, Mabel Siceloff of Olin, N.C.; many more nieces and nephews in the Philippines.
A Funeral Mass will be held at 11 a.m. on Tuesday, May 23, 2023, at St. Philip's Roman Catholic Church with Father Kessler officiating. The family will receive friends after the service at the church.
Nicholson Funeral Home is serving the family.