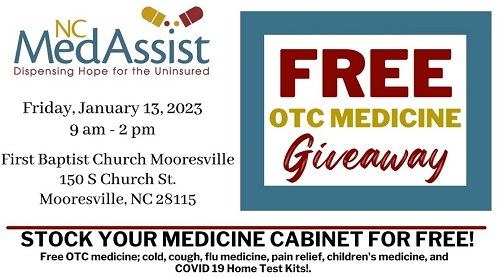 Special to Iredell Free News
NC MedAssist and the Iredell County Health Department are partnering to provide a Mobile Free Pharmacy and Health Fair event in Iredell County on Friday, January 13.
The event will be held at First Baptist Church Mooresville, located at 150 S. Church Street, from 9 a.m. until 2 p.m.
The event is open to any person or family needing over-the-counter medications. Participants must be at least 18 years old to receive medicine. Everyone will receive up to eight over-the-counter medicine items free of charge.
No identification is required. Individuals may pre-order medication for pick-up, or work with a trained professional to select from available medications the day of the event. Pre-registration is encouraged but not required.
NC MedAssist will provide information to participants about enrolling in the NC MedAssist Free Pharmacy Program, which mails free prescription medications directly to a patient's home. Additional information and resources will be available from multiple community partner organizations. In addition, to health information, the Health Department will be providing no-cost at-home COVID-19 test-kits.
Pre-Order
Individuals interested in pre-ordering their medications for pickup can register online by visiting http://medassist.org/mobile/. Select the Iredell County event. The order form link is included under the event details section.
Volunteers
Volunteers are needed for the event setup on Thursday, January 12, and for the event on Friday, January 13. If you or your team are interested in participating as a greeter, runner, distributor, etc., register at https://medassist.org/volunteer/
NC MedAssist Services
NC MedAssist is a statewide nonprofit pharmacy founded in 1997. NC MedAssist offers three programs that address the needs of children and adults: The Free Pharmacy Program, the Mobile Free Pharmacy, and the Senior Care Program. Learn more at www.medassist.org.
Community Partners
The Iredell County Health Department supports the mission of NC MedAssist to offer free prescription medication to low-income, uninsured North Carolinians.
This event would not be possible without the active participation of the following community partners: United Way of Iredell County, Partners Behavioral Health, Kintegra, HealthReach, Healthy Blue, Piedmont Health Care, Safe Kids Iredell, Mooresville Police Department, and many other community collaborative organizations.