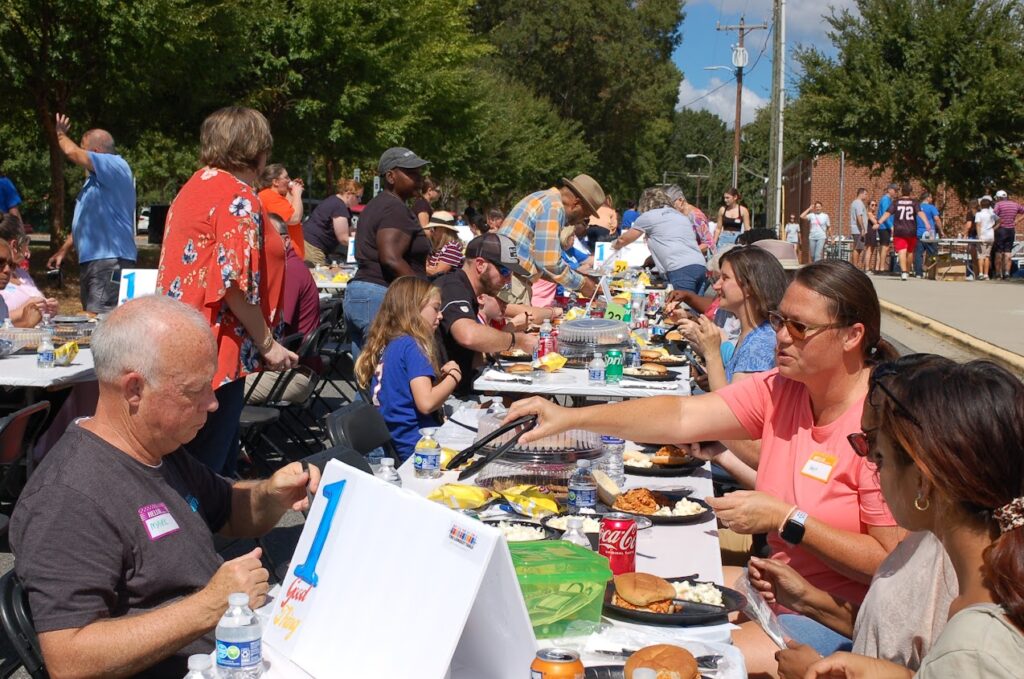 BY DEBBIE PAGE
Under a bright October sun, over 1,000 community members gathered at Mooresville High School's Blue Devil Boulevard on Sunday for the Longest Table event to build and celebrate community connections and to share "One Good Thing."
The United Way of Iredell County Longest Table community gathering has been held in Statesville three times at various locations, but this marks the first time the event has been held in Mooresville since the local organization expanded to the town last year.
The purpose of the event, which was hosted by the Mooresville Graded School District, is to foster a spirit of connection, community, and relationship between neighbors of all income levels, ethnicities, and beliefs.
MGSD Chief Communications Officer Tanae McLean, who chaired the event committee, thanked sponsors and 250 "hometown hero" volunteers who joined together to make the event possible.
Superintendent Jason Gardner said the event aligned with the district's mission.
"When we were asked if we could host the event today, I felt like it was the perfect opportunity for us as a school system," Gardner said. "This signifies what we believe in, that we're really the hub of the community."
"At MGSD, one of our priorities is to develop a culture of relationships as we know that it takes a true community effort to get the best education possible to our kids."
When sharing his "One Good Thing," Gardner expressed gratitude for the district's 6,000 students.
"There's a lot of discussion about today's youth, but I encourage you to visit some of kids, walk in these hallways," he said. "We have some amazing students who are going to do great things in the future, the best and brightest here in this town, and I think our future is in great hands."
Mooresville High Principal Samone Graham said the school's motto is being "All In." She said the effort and collaboration to make this event possible exemplified that attitude.
Graham's "good thing" was that she got to be a blessing to her students and staff each day, as they are a blessing to her.
"I enjoy everything I do, and every student and staff that I encounter is just a blessing from God," she said.
After the Mooresville High NJROTC presented the colors as the MHS ensemble choir sang the "Star Spangled Banner," Temple Emmanuel President and Lay Clergy Beverly Maurice and Williamson's Chapel United Methodist Senior Pastor Toni Ruth Smith offered the prayer for peace, understanding and loving one's neighbor before the meal was served.
Community members enjoyed great conversation over a free, delicious meal of barbecue, mac-n-cheese, slaw, baked beans, cucumber salad, rolls, and cookies with people who are neighbors they have not yet met.
After the meal, with the help of conversation facilitators, guests at each table were asked to share "One Good Thing" that has happened in their lives or community over the last year.
By talking about these good things, organizers hope the Mooresville community will think about all of the things for which it is thankful.
Sponsors
Organizers expressed gratitude to all the sponsors and partners who have shown up to plan and support this inaugural community event, including:
Mooresville Graded School District
Iredell Health Systems
Coca-Cola Consolidated
Mitchell Community College
Doosan
Lowe's YMCA
feedNC
WAME Radio
Iredell County Partnership for Young Children
Mooresville Public Library
Blender Creative Company
Firm Foundation Martial Arts
Mooresville Fire Department
Cheney Brothers
Piedmont HealthCare
Williamson's Chapel United Methodist Church
First Citizen Bank
Rotary Club of Statesville
Iredell-Statesville Schools
Town of Mooresville
WHIP Radio
The Christian Mission
Cavin-Cook Funeral Home & Crematory
Site and Sound Systems
Mooresville Police Department
United Way of Iredell County
Photo Gallery