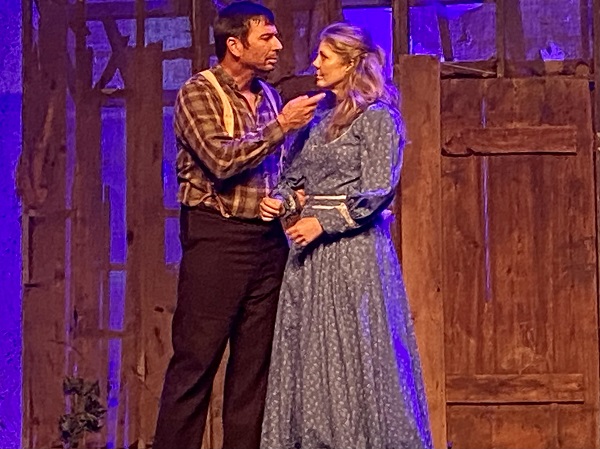 BY AMY FUHRMAN
The story of Tom Dooley (Dula) has become a legend for its potent mix of love, lust, jealousy, murder and an infamous trial and hanging set in Civil War-era Wilkes and Iredell counties.
For the first time in the production's 22-year history, the two counties have come together to tell the tale in "Tom Dooley: A Wilkes County Legend … the road to Statesville." The show opened Thursday night at Statesville High School's Mac Gray Auditorium as a partnership between Center Stage Alliance and Bleu Moon Productions.
"This is a story that has been shared by two counties (Iredell and Wilkes) but they have never collaborated. We are glad to bring the story together because that's the way it belongs," said writer and director Karen Reynolds. "You might find some of your ancestors were involved in some way."
The true story centers around the murder of a young woman named Laura Foster. She was carrying Tom Dooley's child at the time of her death, even as he continued a love affair with the married Anne Melton. Dooley and Melton are both suspects in Foster's stabbing. As passions flared following Foster's death, Gov. Zebulon Vance arranged for Dooley's trial to be moved to Statesville.
Among an all-around talented cast, standout performances were delivered by Mykel Myers as Laura Foster, David Wingler as Tom Dooley, William Davidson as Will Foster, Brittany Daemer as Anne Melton and Felicia Cottrell as the always lurking and scheming Lotty Foster, Anne's mother.
A particularly powerful courtroom scene pits Anne's very hostile cousin, Perline Foster (Marsha Angell), against Gov. Vance (Johnny Sherrill), who is trying to defend Dooley, whom he considers a Civil War hero. Their performance drew cheers from the audience on opening night.
The other stars of the show were Josh Myers and Karla and Stewart Kincaid, whose band Third Wheel played music throughout the performance that both enhanced and advanced the story in a truly unique way.
Following Thursday's performance, the audience as given the chance to vote on who they believed really killed Laura Foster.
But, as the author Karen Reynolds noted, "No matter what anybody tells you, there ain't nobody who's ever really going to know."
Show Times
The production runs July 20-22 and July 27-29 at 7 pm and July 23 at Mac Gray Auditorium. Tickets are available at https://centerstagealliance.org/