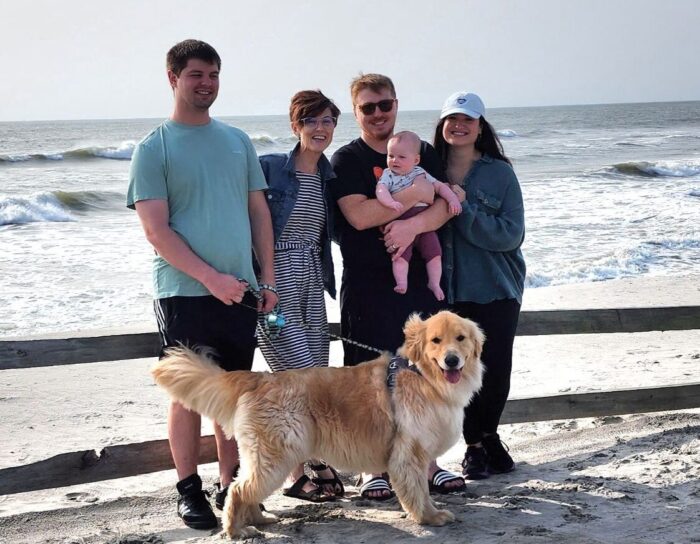 Special to Iredell Free News
When Nichole Wells was 18 years old, a caring nurse comforted her through the life-altering loss of her twins.
Inspired by this nurse who stood by her side during those darkest hours, Wells has made it her life's mission to raise awareness and support others who have experienced this same type of loss.
Wells' Story
Thirty-one years ago, in 1992, Wells was 22 weeks pregnant with twins, Ashley and Alexa. Wells was at a picnic in Pennsylvania, where she lived at the time, when her back began to hurt
"I was just experiencing some generalized lower back pain. I had a history of low back pain due to a car accident, so I didn't think much of it," Wells recalled.
As her back pain became more intense, she decided to call her OB-GYN's office. The nurse at the office took her message and only a few minutes later, the physician on-call called her back and told her she needed to get to the hospital.
"When I arrived at the hospital, they took me to their office, which was right downstairs from the labor department, and did an ultrasound. That's when they told me I had lost my girls," said Wells. "I was admitted upstairs and induced. It was a long 44-hour period of induction of labor."
"At that time, I was devastated and in pain from losing my girls. I was in a critical medical state, so I'm thankful I am even here now," said Wells.
Wells was in the hospital for five days after delivery. Throughout her time as a patient in the Pennsylvania-area hospital, there was one specific nurse who would have an impact on Wells' life for years to come.
"The person who made the largest impression on me was my nurse, Beth. She was there for me. She sat with me and held my hand. She allowed me time with my family, and if I didn't want visitors, she advocated for me. Even on her shifts off, or when I was transferred to another unit, Beth would still come to check on me and support me," said Wells.
"She really took care of my family too, which always stood out to me. My brother was seven years younger than I, and he was upset as well. Beth sat with him and comforted him and recognized it was not only a loss for me, but a loss for every single person that was involved."
Unfortunately, for many mothers and families, the hospital stay is the only opportunity to create memories with a baby who has passed. The ability to memorialize a baby during this time is usually dependent on the hospital staff and nurses. To support Wells during this time, Beth made her a memory box full of photos and mementos of her twins.
"The items in my memory box were and still are so valuable to me. They helped me find closure," Wells explained.
"Beth and I developed a friendship, and that is where I found my passion to be a labor and delivery nurse and support other mothers and families experiencing that type of loss," she said.
After losing her twins, Wells' life trajectory changed. She wanted to share that same care and compassion she had received with others.
Instead of following her original plan to go to law school, Wells began working as a certified nursing assistant on a labor unit. She then became a licensed practical nurse and worked on a mother-baby unit where she often took care of mothers after the loss of a child. Wells later became a certified labor and delivery nurse, received her master's in nursing, and is now about to graduate with her Doctorate of Nursing Practice.
The now 50-year-old Wells is a devoted nurse in The Birth Place at Iredell Memorial Hospital, where she has worked for three years. Every day, she dedicates herself to supporting women, babies, and families. In the event that a family faces the same heart-wrenching loss she endured, Wells is the first to offer them comfort, understanding, and support.
This past summer, Wells became the leader of Iredell Memorial Hospital's Perinatal Bereavement Committee. In that role, she trains and guides nurses in caring for bereaved families. She also provides support for grieving parents and family members.
A Wave of Light
Pregnancy and Infant Loss Remembrance Day is observed on October 15 each year and includes the international Wave of Light. Wells encourages her Iredell community to join in and spread awareness of infant loss.
Join Wells in lighting a candle at 7 p.m. on October 15 and leave it burning for at least one hour to remember all babies that have died too soon. By doing so, you will be joining the "wave of light" that spans across the world for a 24-hour period in honor of all the babies who lit up lives for such a short time.
Iredell Memorial Hospital will be partaking in the observance by placing electric candles in each of the hospital's front windows.
"I encourage our community to join in on this meaningful event to raise awareness of infant loss. You can also show your support by donating to Iredell Health Foundation's The Birth Place Fund that helps support families who have lost a little one," said Wells.
Donations to The Birth Place Fund go toward items that will help grieving families create lasting memories of their baby, in addition to supporting other Birth Place needs.
LEARN MORE
To learn more about The Birth Place Fund, or to make a donation, visit IredellHealthFoundation.org or call the Foundation office at 704-878-7669.
About Iredell Health Foundation
The Iredell Health Foundation is a 501(C)3 nonprofit organization responsible for philanthropy for Iredell Health System. It supports the system's programs and services through donor-centered fundraising. The Foundation focuses on raising community awareness of specific programs that need funding and provides individuals and organizations hoping to make a difference and leave a legacy the opportunity to support local healthcare needs of their choice. To learn more, or to make a donation, visit www.iredellhealthfoundation.org or call 704-878-7669.