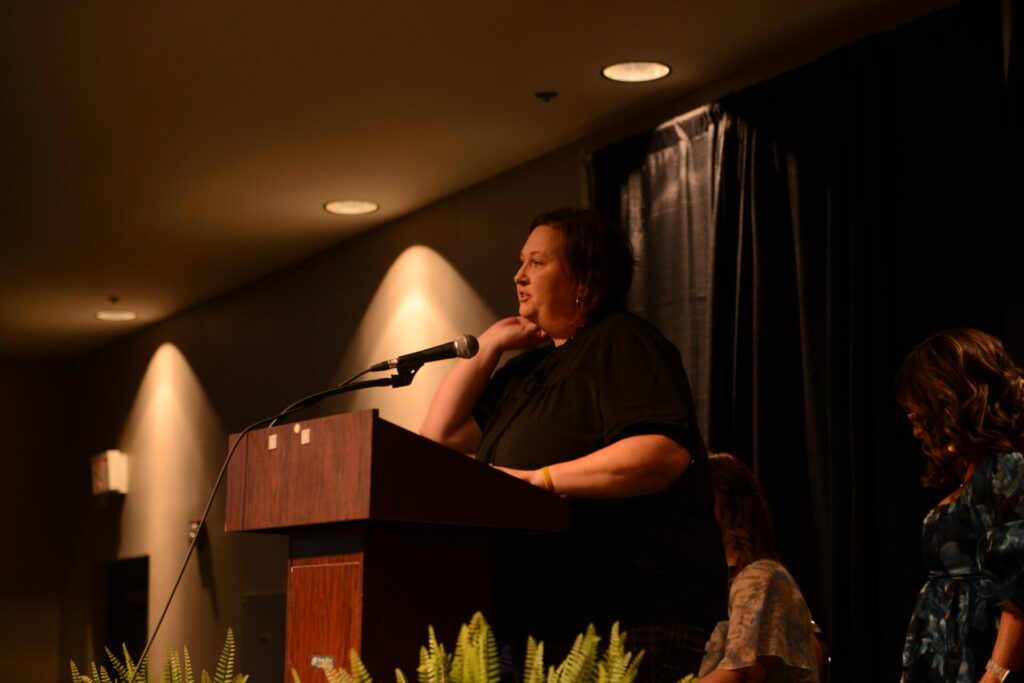 STORY BY MIKE FUHRMAN
PHOTOS BY AMANDA CALDWELL
Angela Ramsey stood behind a podium on Wednesday and told a crowd of 400 people about the darkest days of her life.
Speaking at the 8th Annual Rainbow Kidz Courage Luncheon at the Statesville Civic Center, Ramsey detailed the events surrounding her 7-year-old son Willie's brief battle with a rare form of cancer, the unimaginable pain that followed his death, and her family's ongoing grief journey.
Along the way, she has leaned on the Rainbow Kidz staff and her surviving children, Micah and Eva, have learned how to deal with their feelings and talk about their "special person" by attending group counseling.
Ramsey shared a picture of Willie eating popsicle on a warm spring day and a family photo taken during a trip to the beach before his diagnosis. Those photos of happier times contrasted with a photo of Micah and Eva with a Willie-sized space in between the siblings after their brother's death.
Willie died on July 30, 2020, about 10 weeks after he first complained of a persistent back pain, which led to a trip to Brenner's Children's Hospital. He was initially diagnosed with pneumonia, but a battery of tests during a return visit two days later revealed he had NUT carcinoma, an aggressive form of cancer with no treatment protocols.
"We will forever live around the hole in our family," Ramsey told the crowd.
The Rainbow Kidz grief support program has helped Micah and Eva — and Angela and her husband Adam — live around that hole.
The Ramsey children are among the 600 students across 41 schools who have participated in group counseling, individual therapy and summer camp during the past year. Micah has chronicled his feelings in a grief journal, which has led to difficult but important family conversations at home.
Ramsey called Rainbow Kidz director Leigh Ann Darty a "precious gift" and said the program has been a godsend.
"They have been there with us every step of the way," Ramsey said.
"Rainbow Kidz gives children the courage to honestly face their grief and share that journey with others. This is the power of group for my children and for my family," she added.
Her testimonial was the highlight of the annual fundraiser, a powerful reminder of the important work Rainbow Kidz is doing in our community.
Darty and Lead Rainbow Kidz Counselor Meredith Fleming detailed for supporters the demand for pediatric grief counseling services throughout Iredell County. In North Carolina, nearly 10 percent of children will experience the loss of a parent or sibling before they turn 18.
In addition to adding group sessions at nine additional schools during the past year, the program also extended its reach to the YMCA's Bridge Academy and the Boys & Girls Club of the Piedmont. Eighty-five students attended summer camp, and a tribute video by Nicole Rhyne captured the impact the experience had on the participants and volunteers.
Thanks to the community's financial support, Rainbow Kidz added a third counselor, Michelle Smith, this year, and the Hospice & Palliative Care of Iredell County program plans to add family counseling and support resources during the coming year.
"Our team has worked tirelessly over the last 18 years to grow a program that continues to meet the needs of grieving children in our community," Fleming said.
"At times the stories we hear are heartbreaking," she added, "but through the support of Rainbow Kidz, smiles return and brave children openly share about their special person."
Darty said her heart was full to see the large crowd of supporters at the luncheon. The expansion of services will have a lasting impact on the community, she said.
"This will promote generational healing and unduplicated services, providing access to care at no cost to the whole family," she explained.
Photo Gallery