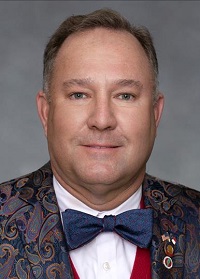 FROM STAFF REPORTS
Rep. Jeff McNeely has resigned his leadership position in the N.C. House of Representatives.
McNeely, a Republican who represents the majority of Iredell County, stepped down as deputy whip of the GOP leadership caucus. House Majority Leader John Bell announced McNeely's resignation Thursday morning.
McNeely, who has faced criticism for a comment he made on the floor last week, has not resigned his seat in the N.C. House. He serves as co-chair of the House agriculture and transportation committees.
The Iredell lawmaker was appointed in 2019 to fill the seat vacated by Rep. Rena Turner. He defeated a Democratic challenger in 2020 and was unopposed in the 2022 general election.
McNeely has come under fire over the past week for asking a Harvard-educated retired judge who represents Wake County if his academic achievements were a result of his race and athletic ability. During a debate on the House floor, McNeely interrupted Rep. Abe Jones to ask a question, which was widely considered racist.
In a statement last week, McNeely apologized and called his comments a "misstep."
Related Article
Rep. McNeely apologizes for 'misstep,' vows to work to become better