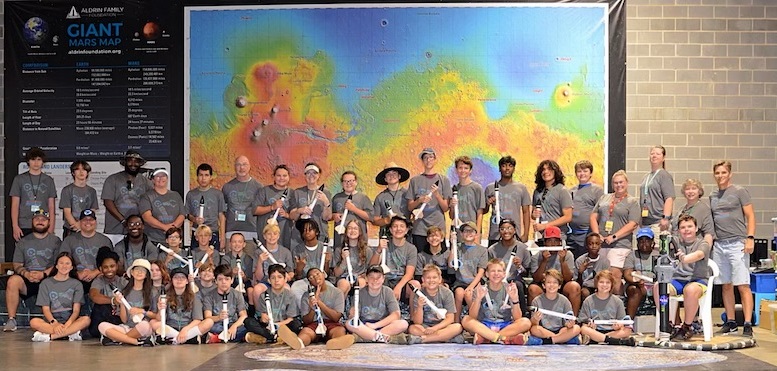 BY KARISSA MILLER
The sun was shining brightly in the sky as Catelyn Clark's rocket was positioned on one of three launchpads in the parking lot of Career Academy and Technical School in Troutman on Thursday morning.
Clark counted down, pressed a button and watched as her rocket begin to lift off during Rovers, Robots and Rockets camp.
Students looked on as Clark's rocket climbed into the sky and then slowed down as the parachute opened and the rocket fell to the ground.
She ran over to check her payload, a raw egg, and then twisted open the capsule.
"It survived," she shouted, holding up the egg.
Her peers and teachers congratulated her on a successful rocket launch.
"I was very excited to see my egg. I thought my egg would break," Clark said.
Clark, a rising sixth-grader, said that one thing she likes about the camp is that it pushed her to learn and try new things.
Other students weren't so lucky. Some students didn't have enough padding and their egg cracked. Others had issues with their parachute or lost their rocket.
Camp volunteer Doug Knight, a physics professor at Lenoir-Rhyne University and Iredell-Statesville Schools Board of Education member, said that the egg drop challenge introduces students to the fundamentals of rocketry.
"It's a first step. My hope is to get kids doing this on middle and high school rocketry teams," he said. "We want to get kids interested in STEM."
In addition to launching their rockets, participants enjoyed taking rides on the hover craft.
Teacher Kensley Dalton said the camp helps students learn about engineering and science principles.
The hover craft was built out of plywood, a tarp, pool noodle, lots of duct tape, staples and a leaf blower. The students added a lawn chair to help center the gravity for the rider.
"It's almost like a roller coaster for them. The kids just love it. The biggest thing is it's fun but we keep it safe for them," Dalton said.
Photos