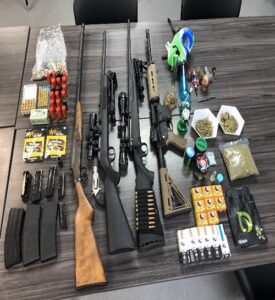 FROM STAFF REPORTS
A Statesville man faces felony weapon and drug charges following an investigation by the Iredell County Sheriff's Office.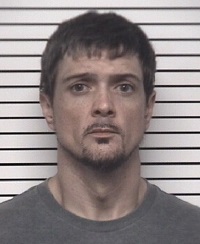 Sheriff Darren Campbell announced the arrest of Justin Lewis Ostwalt, 34, of Dillon Drive, Statesville, in a news release on Friday.
On August 11, deputies assigned to the ICSO Aggressive Criminal Enforcement Team responded to 115 Dillon Drive after receiving an anonymous tip about illegal drug and weapon activity through the Sheriff's App, Campbell said.
After further investigation, deputies learned that Ostwalt, a convicted felon with outstanding warrants for arrest, lived in the home, according to the news release.
As the deputies arrived at the residence, they observed a man matching Ostwalt's description retreating inside the home, Campbell said.
A woman eventually came to the door and escorted the deputies inside to look for Ostwalt, according to the news release.
While deputies were searching in the basement, they discovered a large amount of marijuana as well as multiple firearms, Campbell said.
The deputies quickly located Ostwalt inside a locked bathroom, according to the news release.
He was placed under arrest without incident, and deputies obtained a search warrant from a local magistrate.
During the ensuing search of the residence, deputies seized 254 grams of marijuana, 14 grams of marijuana wax, 8.14 grams of pressed fentanyl pills, and .01 grams of methamphetamine, according to the news release. Five firearms and 300 rounds of ammunition were also seized due to Ostwalt being a convicted felon, the sheriff added.
Ostwalt was transported to the Iredell County Detention Center, where Magistrate Callejas issued a $352,000 dollar secured bond.
According to the ICSO, Ostwalt's criminal history includes the following charges: Misdemeanor False Fire Alarm, Misdemeanor Disorderly Conduct, Misdemeanor Larceny, four counts of Misdemeanor Possession of Drug Paraphernalia, Misdemeanor Simple Possession of Schedule II Controlled Substance, Felony Sell Marijuana, Felony Sell Schedule III Controlled Substance, and four counts of Driving While License Revoked.