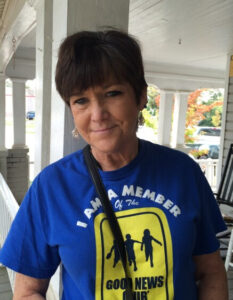 Melissa "Missy" Tucker Kyles, 63, of Troutman, N.C., passed away on Thursday, August 17, 2023, at the Gordon Hospice House in Statesville, N.C. Before her passing, Missy was wonderfully cared for by her loving family and the staff at Maple Leaf.
Missy was born on November 27, 1959, in Iredell County, N.C., daughter of the late M.L. "Jack" Tucker and Nellie Cook Karriker. She was a member of Troutman Baptist Church and loved her church family. Missy took every chance she could to share her love of Jesus. She was a member of the Good News Club and loved spending time in the mountains and the beach.
In addition to her parents, Missy was preceded in death by her husband, Timothy H. Kyles; son, Timothy Cale Kyles; and siblings, Michael Cook Tucker, Jack Lee Tucker and Shirley T. Holland.
Those left to cherish her memory include her brothers, Jeff Tucker (Teresa) and Tim Tucker (Angela), sister, Bonnie T. Mayberry (Jerry); sisters-in-law, Shirley Tucker and Nancy Cook; and numerous nieces and nephews.
Funeral services will be held at 4 p.m. on Sunday, August 20, at Troutman Baptist Church with burial to follow at Beulah Baptist Church Cemetery. Rev. John Stevens and Rev. Brian Burgess will officiate. The family will visit with friends prior to the service from 3:30 to 4 p.m.
In lieu of flowers, memorial may be made to Maple Leaf, 1101 Maple Care Lane, Statesville, NC 28625.
Troutman Funeral Home is serving the family.