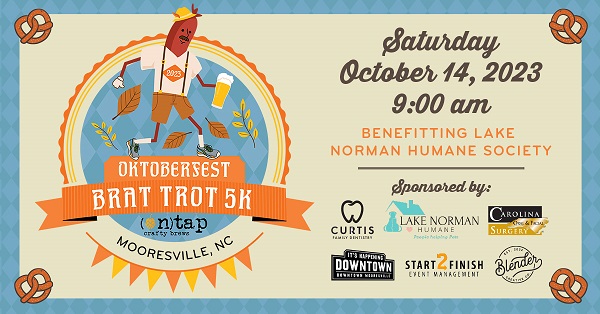 Special to Iredell Free News
On Tap Crafty Brews will host its Third Annual Brat Trot 5K in Downtown Mooresville on Saturday, October 14.
The 3.1-mile run begins at On Tap, located ar 188 N. Main Street in Mooresville, at 9 a.m. There will be day-of registration available.
A full day of Oktoberfest events follow the run's completion, including vendor tables, food vendors (B's Grill and Pie in the Sky Pizza), the annual stein-hoisting competition, seasonal brews and live music from Coddle Creek at 6 p.m.
The event benefits Lake Norman Humane. Pet surrenders and strays are significantly high right now, making organizations like Lake Norman Humane essential to the community.
LKN Humane is a nonprofit animal shelter, which means donations are a huge part of maintaining their rescue, rehabilitation and rehome efforts. LKN Humane will be on-site on Saturday with a pet adoption as well.
Registration
Registration is available online at https://raceroster.com/events/2023/78031/brat-trot