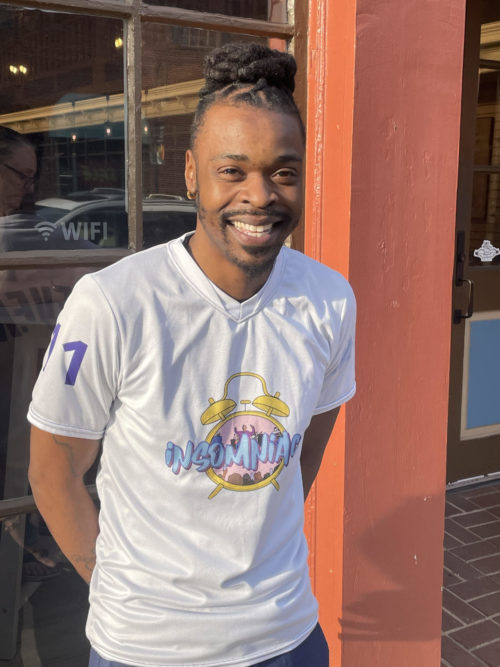 Insomniacs Inc. creates access, support for minority arts and culture
BY MIKE FUHRMAN
Tevin Carr admits he was a little skeptical when his friend Jordan Darty invited him to come watch him perform at an Iredell Arts Council open mic night a couple of years ago.
A Statesville native who owns a recording studio, Carr had never heard of a rapper or hip-hop artist taking the stage at the Old Jail in Statesville. Performers in these genres, he said, have never had a space in the downtown district where they felt welcome and supported.
Attending that show in the Arts Council's venue set off a series of events that led Carr to create Insomniacs Inc., a 501(c)3 nonprofit organization dedicated to creating a collaborative environment for artists who have traditionally been denied access to public spaces in our community and many others.
It's Iredell County's first nonprofit minority arts and cultural program.
With the support of private donors, a couple of grants and the group's fundraising efforts, Carr and his seven-member board are building a network for local performers dedicated to helping each other grow as artists and independent business people.
As word about Insomniacs spreads, new artists have joined the organization, bringing new skills to the collaborative to share with their peers. Members with experience in law, marketing, stage lighting and finance are helping empower and inspire a whole generation of talent.
Rappers, hip-hop artists and poets who Carr said have previously resigned themselves to "doing great things in their church or in their basement" now regularly perform during open mic and Spoken Word events at the Old Jail. And the Insomniacs also hold monthly events of their own in the venue.
"We feel like we're part of the new Statesville and new Iredell," Carr said. "It feels good to be part of it."
'Crossing bridges, connecting and healing'
After graduating from Statesville High School in 2010, Carr was headed for a career as an attorney. He received his undergraduate degree in political science and public administration at Catawba College before earning his law degree at Elon University Law School.
When his grandfather passed away in February of 2018, Carr felt a shift in his perspective and priorities. While studying for the N.C. Bar Exam, he felt uninspired by the career path he had chosen. "I kind of gave up," he said. "I didn't feel fulfilled."
After some soul searching, reflection and answered prayer — "He told me to trust Him. That He had me," Carr decided to devote his time and effort to music production and to growing his career as "Xieven," his rap and hip-hop persona.
Carr moved Sleepy Studios Inc. and himself back to Statesville for what he called "homefield advantage" and began growing his production business. But like many artists he found it nearly impossible to make a living doing what he loves the most. A job with Dream Builders Communication has helped bridge the gap.
After attending that open mic night with his friend Jordan in 2021, Carr met Iredell Arts Council Director John Koppelmeyer, who inspired Carr to establish the nonprofit. John's wife Xotchil helped with the process and she actually made the first contribution to Insomniacs.
The nonprofit is focused on three initiatives:
♦ Hipknotics, a program for children and teens that promotes social-emotional learning through hip hop;
♦ Night Owls, a program that provides a platform for artists to showcase their talent and learn technical skills associated with sound, lighting, etc.; and
♦ Day Dreamers, a program that focuses on the business side of art, such as finance, budgeting and marketing
As a result of these efforts, Insomniacs is helping attract new artists and more diverse audiences to events at the Old Jail. A recent Spoken Word shows hosted by the Arts Council was attended by a wide array of people from throughout the community.
Koppelmeyer, the Arts Council director, said the new nonprofit is helping redefine the arts community in Statesville.
"We have a lot of issues that divide us as a community," Koppelmeyer said, "but a group of people that come from different backgrounds and culture that can be in a room together listening and enjoying art or music, like we had the other night and like we have at the Insomniacs shows, is a beginning of crossing bridges, connecting, and healing issues that divide us."
Carr said it's been exciting to be part of that change, to help show young people that old stigmas can be discarded, and to inspire them to pursue their passion in spaces where people of color have been excluded.
"That representation and access has changed," Carr said. "That's what I take the most pride in."
EDITOR'S NOTE: This article was originally published in "IFN Monthly."