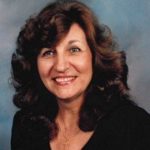 Betty Kay Ross Stanfill Bronson, known as "Mrs. Kay," passed away peacefully in the early morning hours of December 13, 2019, at her current home in Mt. Ulla, N.C., at the age of 80. She was surrounded by her loving family.
Kay was preceded in death by her mother, Rebecca Pauline Ross; her father, William Granville Ross; and her first husband, Billy Joe Stanfill.
She is survived and lovingly remembered by her husband, Amon Bronson of Salisbury, N.C.; son, Bryan Stanfill of Mooresville, N.C.; daughter, Kristie Heyworth and husband Todd of Mooresville, N.C.; grandson, Riley Stanfill of Mooresville, N.C.; granddaughter, Ashley Kinney and husband Nicholas of Bessemer City, N.C.; sisters, Ann Dickey of Eagleville, Tenn., Joan Graves and husband Sammy of Jackson, Tenn., Betsy Kirchner and husband Larry of Loudon, Tenn.; stepdaughter, Tonya Bronson of Mt. Ulla, N.C.; step-grandson, Lee Bronson and wife Molly of Salisbury, N.C., and their children, Ada Elaine, Aymen Grace, Mia Evelyn and Lydia Jane; four brothers-in-law; and four sisters-in-law; along with many nieces and nephews.
Kay was born on August 26, 1939, at home in Gibson County, Tenn. Kay grew up at Polly Oaks Farm, lovingly named after her mother Pauline. She loved the earth, the house, and the farm. She attended Salem Methodist Church in Milan, Tenn., where her parents fell in love. There she accepted Christ, was baptized, and later got married to her first husband, Billy Joe.
Kay was homecoming queen, a cheerleader, and had a gift for music. During her years at Medina High School just north of Jackson, Tenn., she and three other classmates formed a quartet called The Velvetones. In 1956, they won first prize at the Gibson County Talent Show in Trenton, Tenn. From there, they won the Mid-South Fair in Memphis, and that led them to a recording contract, a radio spot, and a TV show on WDXI in Jackson.
Kay had a gift for poetry. She kept a pencil and pad next to her bed, often having musings in the wee hours of the morning. She published a collection of her poems in a book called "Musings of the Farmers' Daughter." She was a radiant beam of light, always bringing joy and comfort to everyone around her, including church families, her own family, as well as strangers. She used her beautiful soprano singing voice to bless her church congregation with her passion of music. She was able to touch many people with her many gifts.
Kay married her loving husband, Amon Bronson on March 27, 2004. Both widows, they embraced their love for each other and spent many wonderful years traveling and growing in their newest church family together.
The family will receive friends on Monday, December 16, from 6 to 8 p.m. at Cavin-Cook Funeral Home. Funeral services will be held at 11 a.m. on Tuesday, December 17, at Centenary United Methodist Church. Burial will follow the service at Coddle Creek ARP Church Cemetery.
Memorials may be made to Centenary United Methodist Church, 620 Centenary Church Rd, Mt. Ulla, NC 28125 or Hospice & Palliative Care of Iredell County, 2347 Simonton Road, Statesville, NC 28625.
Cavin-Cook Funeral Home & Crematory, Mooresville, is serving the Bronson family. Condolences may be made to the family at www.cavin-cook.com.