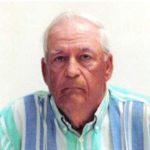 Bobby LeGrande Gandy, 76, of Mooresville, N.C., passed away on Sunday, December 15, 2019, at Lake Norman Regional Medical Center. He was born November 28, 1943, in Hartsville, S.C., to the late Julian Caleb (J.C.) Gandy and Genolia Hall Gandy. He was a Funeral Assistant with both Cavin-Cook Funeral Home and Neill Funeral Home before his retirement. In addition to his parents, Bobby was preceded in death by a son, Butch Gandy.
He is survived by his wife, Shelby McAllister Gandy; brother, Carlyle Gandy (Cheryl) of Myrtle Beach, S.C.; step-children, Reggie Vanzant (Laura), Deborah Vanzant (Jeff), Tara Dowling (Rich), Kimberly Peterson (Caleb), Misty Knight (Zac), Brett Burkhart, Jr. (Amber) and Bradley Burkhart (Heather); grandchildren, Aidan, Stormy and Landon; and special friends from Lake Myers, Lee, Gaye, Jeremy, Mary, Abby, Mitch, Marty and Randy and his loving fur babies, Roxie and Maggie.
A Celebration of Life for Bobby will be on Wednesday, December 18, at 3 p.m. in the Chapel of Cavin-Cook Funeral Home with Rev. Carlyle Gandy officiating. Visitation for family and friends will be from 2 to 3 p.m., also at the funeral home.
In lieu of flowers, memorials may be sent to St. Jude Children's Research Hospital, 501 St. Jude Place, Memphis, TN 38105.
Cavin-Cook Funeral Home and Crematory of Mooresville is serving the Gandy family.
Condolences may be sent to the family at www.cavin-cook.com.