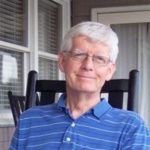 William Franklin "Bill" Tulbert passed away at Lake Norman Regional Medical Center on Friday, December 13, 2019, after a long battle with congestive heart failure. He was 76.
Bill was born on March 19, 1943, in Union Grove, N.C., to the late Clyde Leon and Willie Mae Sale Tulbert. He was a graduate of Union Grove High School (1961). He earned a Bachelor of Science degree from Appalachian State Teachers College (1965) and a Master of Arts from Appalachian State University (1972). Bill spent 33 years working for Charlotte-Mecklenburg Schools, serving a majority of those years as a science teacher at JM Alexander Middle School in Huntersville. He was also employed as a Walmart associate for 17 years, where he was affectionately known as "Bill in Toys." Many of Bill's retirement years were spent as a substitute teacher at Mooresville Middle School.
Bill was an active member of Prospect Presbyterian Church for 52 years, serving as a church deacon, elder, Sunday School teacher and choir member. He enjoyed gardening, reading, and fixing things. On family trips to the mountains and the beach, instead of relaxing, he always had some kind of repair project in the works. Bill was also a great storyteller, especially with respect to the history of Union Grove. Perhaps his greatest joy was spending time with family, especially his beloved sons and grandsons. Bill was "the best."
Bill is survived by his wife of 52 years, Pamela Brown Tulbert of the home; two sons, William Barton Tulbert of Mooresville, and Brittain Hammill Tulbert (Michelle) of Boone; two grandchildren, William Jameson Tulbert and Luke Windsor Tulbert of Mooresville; a sister, Rebecca Poplin of Statesville; three brothers, Stephen Tulbert (Carol) of Union Grove, Daniel Tulbert (Diane) of Hamptonville, and Mark Tulbert (Rob) of Raleigh; sister-in-law, Linda Seamon (Kenny) of Mooresville; and brother-in-law, Ron Brown (Colleen) of Lumberton; as well as numerous cousins, nieces and nephews.
The family will receive friends on Monday, December 16, 2019, at Cavin-Cook Funeral Home in Mooresville from 6 to 8 p.m. A celebration of life will be held in Bill's honor at 11 a.m. on Tuesday, December 17, 2019, at Prospect Presbyterian Church in Mooresville with interment immediately following in the Prospect Church Cemetery with the Reverend Will Gipe officiating.
In lieu of flowers, memorials may be made to the Mission Fund of Prospect Presbyterian Church.
Cavin-Cook Funeral Home is serving the family.
"Come to me, all you who are weary and burdened, and I will give you rest." Matthew 11:28