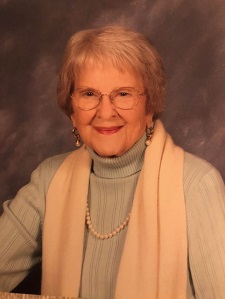 Miss Carmel Elizabeth "Libby" Connolly of Statesville, N.C., went to her Heavenly home on November 5, 2019, at the age of 104.
She was born on April 24, 1915, in Catawba County, N.C. to the late Isaac Shelton and Ada Mae Ingram Connolly. Libby grew up in Loray, N.C. She attended Iredell County schools and graduated High School at D. Matt Thompson in Statesville. Libby graduated from Mitchell College in 1934 and was honored with the distinguished alumni award from Mitchell College in 2015.
Libby's family could not have possibly loved her more. She was the perfect example of kindness, gratitude, unconditional love, humbleness, generosity and grace. Though she never married or had children of her own, she had a mother's instinct and love for her nieces and nephews — great, great great, great-great-great! Somehow she grew more beautiful "inside and out" with age! Libby was never direct or forward, but she found a unique way to express herself and teach lessons in a loving, kind and clever way. She was extremely intuitive and had great empathy for others.
She has been the matriarch of the Connolly family for the past 20 years, and a ray of sunshine in the lives of the four generations of nieces and nephews she leaves behind. Family gatherings were one of the highlights of her life, from the wonderful holidays spent at her brother's farm to Atlanta Braves ball games, beach trips to Hilton Head, S.C., and Ponte Vedra Beach, Fla., Libby took pride in being present and active in the lives of her family. She never missed a special event. Weddings and welcoming new babies were her favorite. As the family has grown in different directions, the one thing that always brought them back together was Libby!
Libby joined Concord Presbyterian Church at Loray when she was eleven years old and was an active member there until June 1942, when she moved her membership to Broad Street United Methodist Church, Statesville. She remained a member there until her death, with the exception of seven years when she moved to Columbia, S.C. During her years at BSUMC, she was a member of the Christian Forum Sunday School class and served as Secretary, Treasurer, and Chairman of several committees. Libby was also an active member of United Methodist Women, serving as Circle Chairman and Treasurer for a number of years. She was awarded a Life Membership in The Women's Missionary Society and Special Mission Recognition from United Methodist Women.
Libby was also an active member of The Primetimers group. She loved her church, her Lord, her family and friends, and many friends as dear as family. Libby enjoyed music, reading, travel, bridge, sewing, gardening and spending time with friends and family.
Her career was spent in the Insurance profession, beginning with C.W. Brown Insurance Agency, then C.C. Fox Insurance, and she worked for seven years in Columbia, S.C., with Home Insurance Company and Travelers Insurance. She returned to Statesville in 1964 and was associated with Webb Insurance Agency until her retirements in December 1991. She was a member of The Statesville Association of Insurance Women, serving as President a number of terms and also Secretary of the State Association. She completed three National courses given by the Insurance Institute of America and was an active member of The Statesville Business and Professional Women's Club and served in several offices.
Libby remained active and vibrant even in her later years. She moved to Jacksonville, Florida, during Christmas of 2017 to live with her great niece Laura L. Glover and her family, but Statesville was "always" her home. She had visited her family in Florida multiple times a year for decades and was already known and loved by many in Jacksonville. Libby continued to amaze everyone with whom she came in contact, made many new friends and a lasting impression with all who met her, especially first-graders at Julington Creek Elementary School in St. Johns County, Fla. During her 100th year, while visiting in Florida, her great-great nephew Will Glover wanted to take her to his first grade class for "show and tell." They were celebrating 100 days of school. The students dressed up like they were 100 years old and Libby joined them to share what it was like to live 100 years. Libby was invited back to that classroom the following four years to share with a new group of students. Each year she shared stories of her childhood, answered questions and, of course, she always posed for pictures. Her personality was equally as contagious in Florida as it had always been in North Carolina.
In addition to her parents, she was preceded in death by her brother Phillip S. Connolly; two sisters, Lucile Connolly and Mary Connolly Echerd; sister-in-law, Lucile Lackey Connolly, a brother-in-law, James H. Echerd; two nephews, James T. Connolly and Anthony (Andy) Echerd, and a very special niece, Barbara Connolly Loftin.
Libby is survived by nephews, William L. Connolly (Martha), Robert G. Connolly (Dale), Joseph A. Connolly, James C. Echerd and Niece Antoinette E. Pottinger, 15 great-nieces nephews, 36 great- great nieces and nephews, and three great-great-great nephews (with one great-great-great niece on the way).
Memorial Service will be held at Mitchell Community College in Shearer Hall on Saturday, November 23, at 2 p.m. Private Burial will be held at Oakwood Cemetery.
In lieu of flowers, memorials may be given to Mitchell Community College Elizabeth Connolly Memorial Scholarship, 500 W. Broad Street, Statesville, NC 28677 or The Music Ministry of Broad Street United Methodist Church P.O. Box 169, Statesville, NC 28677.
Online condolences may be left for the family at www.bunchjohnsonfuneralhome.com.
Bunch-Johnson Funeral Home is honored to be serving the Connolly family.