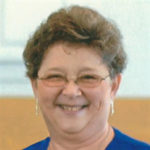 Edith Marlene Whitlock Wiley, 69, of Statesville, N.C., left her earthly home for her Heavenly home with her Lord Jesus Christ on Monday, November 25, 2019, at Wake Forest Baptist Medical Center. Marlene, as she was affectionately known, was born in Iredell County on January 10, 1950, and was the daughter of the late Robert L. "Jack" Whitlock and Edith Bass Whitlock.
Marlene attended Iredell County schools and while her health allowed she faithfully attended Bright Light Baptist Church. Marlene worked at Zimmer Patient Care in the sewing department prior to her being disability retired.
Marlene loved people and never met a stranger. Her wonderful sense of humor was one of her greatest qualities. She enjoyed playing the piano and singing and especially gospel music. Marlene's greatest joy could be found in her family. Her life revolved around her grandchildren and her great-nieces and great-nephews, whom she considered her grandchildren as well. She loved to spend her days with the kids and with her sister-in-law and close friend Carolita. Marlene did not lose her battle to her illness; rather she won her battle and is now in her Heavenly home. To God be the Glory!
Left to cherish the memory of Marlene are two sons, Shane Wiley (Sally) and Tommy Wiley; five grandsons, Jacob, Timothy, Josh and Dakota Wiley and Bruce McDonald (Jordan Sigmon), along with one granddaughter, Shea Elmore (Josh). She is also survived by four great-grandchildren, Malachi, Peighton and Hunter Elmore and Abigail McDonald and one brother, Tony Whitlock (Carolita); along with three nieces, Jennifer Pope (Ray), Erin Stiltner, and Amber Whitlock. Marlene is further survived by six great-nieces and nephews Mattie Pope, Terry Renegar, Brayden Stiltner, Caleb Marlow, Lacey Wyatt and Kyleigh Young.
Funeral services honoring the life of Marlene Wiley will be conducted at 1 p.m. on Saturday, November 30, 2019, in the Nicholson Funeral Home Chapel with Pastor Dr. Sheridan Stanton officiating. Burial will follow in Oakwood Cemetery. The family will visit with friends from 11:30 a.m. until 1 p.m. at the funeral home.
Nicholson Funeral Home is entrusted with serving the family of Marlene W. Wiley.