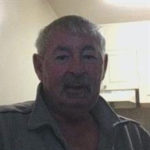 Lawrence Ricky Sidden, 62, of Statesville, N.C., passed away unexpectedly on Monday, November 25, 2019, at his home. Mr. Sidden was born in Wilkes County on January 19, 1957, and was the son of the late Walter Van Sidden and Arlena Burchette Sidden.
He attended Wilkes County schools and prior to his disability retirement worked as a dairy farmer.
Mr. Sidden was a man who loved the outdoors. He enjoyed fishing and working on lawnmowers. His true loves though were tinkering with electronics and fried chicken.
Left to cherish his memory are two sons, Greg Sidden (Alisha) of Connelly Springs, N.C., and Derek Sidden (Sara Cockrell) of Statesville; along with four grandchildren, Camryn, Corbin, Dylan, and Tessa Sidden. He is also survived by three brothers, Ronnie Sidden of Statesville, Roy Sidden (Geraldine) of Elkin, and Rex Sidden of Trap Hill, along with three sisters, Diane Hawkins and Brenda Adams, both of Wilkes County, and Bell Benge of Statesville.
A celebration of life service honoring Lawrence Sidden will be conducted at 3 p.m. on Saturday, November 30, 2019, in the Nicholson Funeral Home Chapel with Preacher Michael Keener officiating. The family will visit with friends for one hour following the service. A private burial will be held at a later date.
Nicholson Funeral Home is serving the family of Lawrence Ricky Sidden.