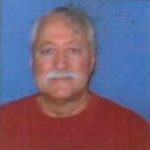 Gerald Franklin "Stumpy" Brotherton, 70, of Denver, N.C., passed away on Monday, November 25, 2019, at his home. He was born November 10, 1949, in Iredell County to the late Jimmy and Faye Clodfelter Brotherton.
He worked for Duke Energy at the McGuire Nuclear Station for many years and was also employed by Ingersoll Rand before his retirement. Stumpy proudly served his county in the U.S. Army during the Vietnam War. He was a graduate of East Lincoln High School. He is survived by his brother, Jeff (Denise) Brotherton; sister, Ann (Ron) Howard; and nephews, Shane (Tina) Clark and Taner Howard.
Services will be on Saturday, November 30, at 3 p.m. at Webb's Chapel United Methodist Church with Pastor John Yeager officiating. Visitation for family and friends will be one hour prior to the service from 2 to 3 p.m. Burial will follow the service in the church cemetery.
In lieu of flowers, memorials may be made to The Wounded Warrior Project, P O. Box 758517, Topeka KS 66675.
Cavin-Cook Funeral Home and Crematory, Mooresville, is serving the Brotherton family. Condolences may be sent to the family at www.cavin-cook.com.