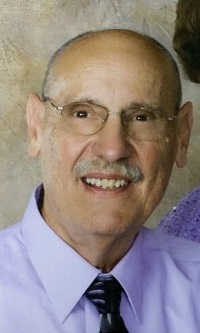 Wendell F. Cook Sr., 77, of Statesville, N.C., passed away Monday, November 25, 2019, at Iredell Memorial Hospital. Born in Davie County on September 8, 1942, he was the son of the late W. L. and Minnie Cook.
Wendell graduated high school and started with UM&M on September 13, 1960, as a sweeper. Over the years and through different company name changes (Clark-Schwebell and finally JPS Composite Materials), he worked his way through the company, retiring as a technical manager, with 50 years of service. His work as a technical manager took him to Japan, England, Belgium, Germany, and Singapore and all over the United States.
After retiring, he enjoyed traveling with his wife Nancy. He had a great love for his church and his Sunday school class at Western Avenue Baptist Church, where he was a faithful member. Wendell was also a member of the Gideon's International – North Camp. His love for the Lord showed through his life. This love guided him as a man, husband, father and friend.
In addition to his parents, he was preceded in death by his siblings, Lawrence A. Cook, Ruby Cook Joyner and W. Leon Cook; and his bride of 56 years, Nancy Herrin Cook, who passed away March 16, 2018.
Those left to cherish his memory are his children, Patricia M. Shaw (Ken) of Statesville and Wendell F. "Dell" Cook Jr. (Ginny) of Cary, N.C.; grandchildren, Katie Cook, Lauren Cook and Andrew Cook of Cary; many nieces and nephews, extended family and friends.
The family will receive friends Saturday, November 30, 2019, from 10 to 11 a.m. at Western Avenue Baptist Church. The funeral service will begin at 11 a.m. in the church sanctuary with Dr. Jeff Spry officiating. Burial will follow at Sandy Springs Baptist Church Cemetery in Harmony, N.C. Memorial donations may be made to Western Avenue Baptist Church Building Fund or to the Alzheimer's Foundation.
Online condolences may be left for the family at www.bunchjohsnonfuneralhome.com. Bunch-Johnson Funeral Home is honored to be serving the Cook family.