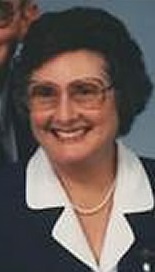 Rebekah "Becky" Hunsucker Hill, 91, of Durham, N.C., and formally of Stony Point, N.C., passed away on Thursday, November 28, 2019, at Duke University Hospital after a brief illness. She was born on Saturday, November 10, 1928, in Catawba County to the late Lonnie Hunsucker & Bessie Holland Hunsucker.
She was a long-time member of Pisgah United Methodist Church. Becky was a retired teacher and an avid gardener and cook.
In addition to her parents, Becky was preceded in death by her husband, Clarence Herman Hill; one son, Robert Clarence Hill; two brothers; and three sisters.
Becky is survived by one son, Barry Herman Hill (Carol) of Hillsborough; daughter in-law, Paula Rechner of Wimberley, Texas; one sister, Betty Erickson of Monroe; three grandchildren, Andrew Bryan Hill of Buffalo, N.Y., Jennifer Nicole Hill of Columbia, S.C., and Ashley Rechner Hill of Wimberley, Texas, and numerous nieces and nephews.
Funeral Services will be conducted at 3 p.m. on Sunday, December 1, 2019, at Pisgah U.M.C. The Rev. Mike Duncan will officiate. Burial will follow in the Church Cemetery. The family will receive friends an hour prior to the service from 2 to 3 p.m.
Memorials may be given to Pisgah U.M.C., 488 Hill Farm Road, Hiddenite, NC 28636.
Chapman Funeral Home is entrusted with arrangements.