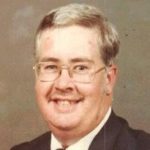 Robert Gaston Myers, 65, of Cleveland, N.C., died peacefully at Maple Leaf Healthcare after a lengthy and courageous battle with brain cancer on Friday, December 6. Known affectionately as "the Shoeshine Man," and a volunteer with Iredell County Special Olympics, Robert loved playing his autoharp, music, trains and greeting people with a smile and "have a nice day." He loved being with people and never met a stranger.
Always an "Ambassador for Christ," Robert was well known for his confidence of faith in all he did and said. He passed away strong in his faith in his Lord, and with helping others on his mind. As Robert's earthly trek has come to an end, he no doubt is hearing his Master say "Well done thou good and faithful servant!"
A member of Faith Baptist Church, Robert loved to volunteer there within many different areas whenever the church doors were open. He was a member of the The Upper Room Ministry and served on its Board of Directors. Robert organized a singing group composed of special needs friends, and gained a copyright as the "The Singing Harps." He also wrote a play "A Handicapped Christmas," which was copyrighted and performed at Faith Baptist Church.
Especially close to his heart was Special Olympics and helping special needs individuals. Robert procured small items from local businesses and organized volunteers to sort and fill goody bags for the Iredell County Special Olympic participants, as well as made them personalized metal button nametags. He received numerous volunteer awards for his Special Olympics efforts.
Robert started Robert's Enterprises in which he ran a mobile shoeshine business shining shoes and boots on the hood of his car and operated shoeshine stands at the Statesville Auto Auction and the 1849 Club. He loved shining shoes and was very proud of his work. Along with the shoeshine business, he sold novelty business advertisement items. These endeavors gave him a chance to meet and know people in all walks of life. In addition to running his business, Robert worked at Bernhart Industries, Davis Hospital, Outdoor Billboard Sales and on the family dairy farm.
Model trains and steam engines were also his joy, and as a member of the N.C. Transportation Museum, he enthusiastically volunteered at the Samuel Spencer Shops with their steam train excursions.
Robert attended Cool Springs School, Murdoch Center in Butner, and Western Carolina Center in Morganton.
Robert leaves behind his brothers, J. Roger Myers (Donna) of Cleveland and Donald C. Myers of the home; his sister, Esther Myers Clark (Wesley) of Knightdale; nephews and nieces, Joseph A. Myers of Wasilla, Alaska, Erin C. Clark of Raleigh, Christy Estes ( Jim) of Wasilla, Alaska, and Chance Williams (Jennifer) of Kannapolis, along with many loving cousins across the U.S.
The family wishes to thank the entire staff of Maple Leaf Healthcare for their care and love of Robert during his illness, Hospice & Palliative Care of Iredell County and the staff at the Wake Forest Baptist Cancer Center, particularly Dr. Strowd, and his staff. Many thanks also to everyone who visited, gave encouragement and friendship to Robert.
The family will receive friends on Tuesday, December 10 from 6:30 to 8:30 p.m. at Nicholson Funeral Home in Statesville. Services celebrating Robert's life will be held at Faith Church on Wednesday, December 11, at 2 p.m. with burial following in the church cemetery.
Fond memories and expressions of sympathy may be shared at www.nicholsonfunerals.com.
For those who prefer, in lieu of flowers, memorials may be made to the Special Olympics Iredell County, P.O. Box 1111 Statesville, NC 28687.
Nicholson Funeral Home is serving the family.