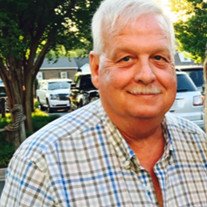 William "Billy" Henry Kelley, 68, passed away Sunday December 8, 2019, at his home in Mooresville, N.C. Billy was born on May 26, 1951, to Gerard and Josephine Kelley in Washington, D.C., one of ten children. He graduated from West Islip High School in 1969.
Billy worked for Verizon for 30 years, which is where he met his wife of now 38 years, Madeline. Billy retired from the company in 2003. He and his family then made the move from North Babylon, N.Y., to Mooresville, where they have lived happily for the last 15 years.
In addition to his parents, he was preceded in death by brothers, Tommy Kelley and Gerry Kelley.
Billy is survived by his wife, Madeline; children, Christopher, Kevin and Caitlin Kelley Whitaker and husband David, Marcie Belisle and husband John Belisle; sisters, Kathleen Lotito and husband Frank, Patricia Schnepf and husband John, Jeannie Otto and husband Alan, Barbara Eilbeck, Chrissie Canary and husband Gordon, and Meg Connolly and husband John; brother Peter Kelley; sisters-in-law Donna Kelley and Audrey Hower; grandchildren James Belisle and Julia Belisle; and numerous nieces and nephews.
Billy loved sports, especially golf and football. His favorite team was the New York Giants. He spent his free time watching various sports games, cooking and working on projects around the house and yard. He also loved going to the beaches on Long Island, where he grew up. Billy was always there to help family and friends with advice, household projects and to share his recipes. He will be remembered most for his humor, wit, charm and undying love and caring for his family. He was a rare combination of someone who had the love of life and a firm understanding of what was important — the simplicity of living a life with those you love.
A private service will be held at noon on Friday, December 12, at Cavin-Cook Funeral Home Chapel.
Cavin-Cook Funeral Home & Crematory, Mooresville, is serving the Kelley family. Condolences may be made to the family at www.cavin-cook.com.