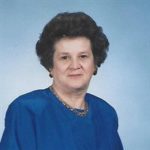 Barbara "Bobbie" Shepherd Rainwater, 88, a 45-year resident of Statesville, N.C., died at her home after a long illness on April 14, 2020.
She was born April 14, 1932, in Old Fort, N.C., the daughter of Edgar William Shepherd and Era Estelle Gilleland Shepherd.
She was a 1953 graduate of The Presbyterian Hospital School of Nursing and was a registered nurse for 40 years.
Barbara was retired from JC Penney Warehouse and was an active member of Saint John's Lutheran Church.
On August 30, 1958, she married Fred M. Rainwater, who preceded her in death in 1994. Her siblings Betty Shepherd Shuford & Bill Shepherd also preceded her in death.
Barbara is survived by her three sons, Kevin (Holli) Rainwater of Fresno, Ohio; Keith (Kathy) Rainwater of Columbia, S.C.; and Brett (Hollie) Rainwater of Statesville, N.C.
Also surviving are nine grandchildren, Gabe (Heather) Rainwater, Daniel Rainwater, Michael Rainwater, Will Rainwater, Molly (Jack) Moore, Abbey Rainwater, Gabby Moran, Halle Rainwater, and Sarah Moran; two great-granddaughters, Aspen Jane Rainwater and Willow June Rainwater; and beloved niece Libbie Mack of Mohawk, N.Y.
Gran Bobbie, as she was affectionately known to her grandchildren, will be most remembered for her enduring, steadfast love for family, church, and neighborhood, including all feathery and furry friends.
The family is deeply grateful for the staff members of Gordon Hospice House & Palliative Care of Iredell County and Home Instead Senior Care who devotedly cared for Barbara, especially the following dedicated individuals: Home Instead – Arlene Bell, Glenda Helms, Deborah Heaggans, Joyce Glenn, Samantha De LaRosa, Delilah Jones, Debbie Lankford, Cierra, Savannah, Frances, Kimberly, Deborah Hillard, Celena Williams, Vonda Warren, Diana Horton, Candy Ortiz, Diana Emery, Heather Oland, Sheryl Glase, Mindy Rainwater, Laura Tevepaugh, Candace Smith, Darla Corah and Ashley Marshall; Gordon Hospice – Fran Stroud, Laura Harris, Megan Lyerly, Pam Gillion, Shadece Griffith-McClellan, Lynn Kunkle, Lindsey Lawrence, and Derinda Rickert.
Memorial gifts in memory of Barbara Rainwater may be sent to Iredell County Hospice and Palliative Care, 2341 Simonton Road, Statesville, NC 28625 or St John's Lutheran Church, 740 North Center Street, Statesville, NC 28677.
Due to covid-19 protocols memorial services for Barbara will be determined at a future time. In the interim, the family encourages everyone to share stories and remembrances at www.nicholsonfunerals.com.
Nicholson Funeral Home is serving the family.