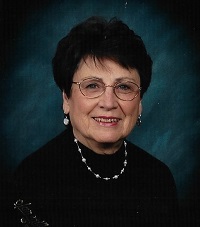 Bertie Cornelia Moore Campbell Vaughn, born April 28, 1928, in Harmony, N.C., passed into everlasting peace with the Lord on Tuesday, February 4, 2020. The youngest daughter of the late William Robert Moore and Mary Edna Harris Moore, Bertie graduated from Harmony High School in 1947. She was married to Robert Abernathy Campbell from 1949 until his death in 1974. Together they had two children, Karen Campbell Henderson (David) of Easley, S.C., and Robert Lee Campbell (Terry) of Mebane, N.C.
In 1978, Bertie married Kenneth Everett Vaughn and welcomed a stepdaughter, Kimberly Vaughn (Bill) of Sylva, N.C. Bertie and Ken shared 32 wonderful years together until his death in 2011. Together they were faithful N.C. State Wolfpack fans.
Bertie was an active member of the Statesville community throughout her lifetime, having been involved in numerous civic clubs, professional organizations, along with non-profit charities, religious and educational endeavors. Honored twice by American Business Women as "Woman of the Year," she loved Canasta Club, Troutman Garden Club, Oakdale Club, Statesville Career Women, ECA (extension community club) and Wesley Adult Fellowship, to name just a few. She received the 1997 Governor's Award for Outstanding Volunteer Service for her volunteer work at Iredell Memorial Hospital and for other organizations in Iredell County.
She had a beautiful voice and sang in choirs at both New Salem United Methodist Church and Wesley Memorial United Methodist Church. She served as a Girl Scout Leader; Boy Scout Den Mother; chaperone for Statesville High Grenadier Marching Band and hospital volunteer.
Always ready to make new friends and enjoy new experiences, Bertie was a valuable asset to husband Ken's position as Iredell County Agricultural Extension Director and N.C. State staff, learning much about the farming industry, 4H Club judging and chaperoning across the United States and South America. She was especially proud when 4H clubs named a calf "Bertie" in her honor.
Having a strong work ethic, Bertie started by picking cotton in high school. From there to JC Penney Distribution Center, to Credit Manager for Sears, to Uniglass, and then Webb Insurance as a claims manager. She especially loved her time at the Iredell County Register of Deeds, meeting the public and assisting the legal community. She continued volunteering at The Women's Breast Cancer Center until her 91st birthday, when illness reluctantly slowed her down.
Bertie loved family and family gatherings. She was instrumental in organizing the Moore Family Reunion. She was the last living member of her immediate family, having been predeceased by four brothers, Paul Moore, Jerry Moore, Roy Moore and Raymond Moore; one sister, Essie Dellinger; one half-sister, Grayce Jones; and stepmother, Flossie Nelson Moore.
In addition to her children and stepdaughter, she is also survived by granddaughter, Traci Moody (Scott), grandson, Nate Henderson; great granddaughters, Alice and Grace Moody, all of Easley, S.C.; and brother-in-law Ray Vaughn (Devan) of Roanoke, Va., along with many special cousins, nieces and nephews.
Everyone was special to Bertie, family members, co-workers, friends, neighbors, church family, young and old. She held the magical gift of friendship, and was much loved by all who knew her. She will be missed but never forgotten.
A private burial will take place Saturday at New Salem United Methodist Church. A memorial service will be held at 1 p.m. on Saturday, February 8, 2020, at Wesley Memorial United Methodist Church. The family will receive friends following the service in the church parlor.
The family requests memorials be made in Mrs. Vaughn's name to Wesley Memorial UMC Parlor Fund. Online condolences may be made to the family at www.troutmanfuneralhome.com
The family wishes to thank the community for their love and caring during this difficult time.
Troutman Funeral Home is serving the family of Mrs. Bertie Vaughn.