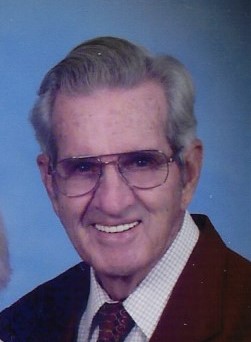 Mr. Billy "Bill" Eugene Jenkins, 92, of Mooresville, N.C., passed away January 24, 2020, at his home.
Mr. Jenkins was born September 6, 1927, in Henry River, N.C., and was the son of the late Herbert F. Jenkins and Ethel Glover Jenkins.
On December 25, 1952, he married the late Wilma "Billie" Joyce Orren, who passed away in May 2012. He was a graduate of N.C. State University, a WWII veteran and a retiree of the Savannah River Site. He loved building and flying radio control planes, was an avid golfer and loved tinkering and fixing everything.
His only child, Steven Bryan Jenkins, passed away in October 2018. He is survived by his daughter-in-law, Lynn Lass Jenkins; granddaughters, Brenae Jenkins Waugh (Austin) and Lauren Jenkins Gilliland; (Kyle) and great grandchildren, Raleigh Cate, Carrington, Austin Grace and Chapman Waugh and soon-to arrive Cayden Gilliland. He is further survived by brothers- and sisters-in-law, nieces, nephews and cousins.
In addition to his wife and son, he was preceded in death by four siblings.
Memorials may be made to Troutman Baptist Church Building Fund or to Bethel Baptist Church. Online condolences may be made to the family at www.troutmanfuneralhome.com
Troutman Funeral Home is serving the family of Mr. Bill Jenkins.