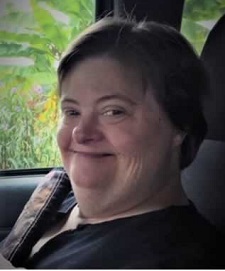 Carol Rae Keever peacefully passed from this life into the loving arms of God and her mama and daddy on January 24, 2020.
She was born in Taylorsville, N.C., at the Alexander County Hospital on August 20, 1969, to Beauford and Liniel Keever. She was diagnosed with Down syndrome, and at that time there were no pamphlets, no early intervention centers, no support groups, no anything to help her parents. In fact, the doctor recommended institutional care and said she may not survive her teen years and would be a burden for them and their other children. They chose to bring her home and love her which the family very much did.
Carol attended school at Taylorsville Elementary in special education classes with her lifelong friend, Kim Rector (daughter of Peggy Rector of Hiddenite). Then one day Carol decided she was going to "quit" and after a year of her telling everyone "I quit school," her mama and daddy let her. During the last part of her school years, mama had to work the family store and was not able to drive Carol to and from school. Ken, who would later become her brother-in-law, was offered by Carol's mother a honey bun and drink to watch over Carol on the bus. Carol looked forward to daily trips to eat, get ice cream, or a slushie with her daddy, whose loving name for her was "Sister."
After her mama's death in 2016, Carol went to live with Ken and Debbie and brought so much joy to their lives. Every day there were new discoveries of her personality, her sense of humor, and the realization that she understood so much more than she was able to communicate. Some days she thought she was the boss and was allowed to be. She loved her slushies and pizzas from Ken and friend Debbie Hammer. Over the last year and a half Ken has taken Carol for rides or burgers each night. She would start begging to "Go" as soon as he walked into the house. They would ride the roads, visit friends or family, and even stop to eat at her homeplace. During the last few months, when her health had deteriorated so much and she was in pain, she was able to have lucid moments when she was telling friends and family "love you" and giving hugs and kisses. Carol's hugs and kisses were the best and could brighten anyone's day. The songs, "Jesus Loves Me," "B-I-B-L-E", "Jesus Loves the Little Children," and The Beach Boys gave her comfort recently when nothing else could. Carol enjoyed going to her home church, where she received lots of hugs and kisses from her friends. After her mother's death, when she came to live with Ken and Debbie, she enjoyed going to their church, where she was special to the congregation, but as soon as church was over she was headed for the door to go eat, and she would insist that Ken quit talking and come on while she was headed to the vehicle. If he didn't respond, she would start hollering across the parking lot "Let's Go, Let's Go, Now." Prior to her health deteriorating, she loved beach music, karaoke singing, and writing in her notebooks (especially the word BAPTIST).
Carol really loved her caregiver, Linda Dalton of Hiddenite. She enjoyed her baths and shampoos everyday, which she insisted on as soon as Linda walked in the door. Linda continued to visit, bringing Sundrops, snacks, and gifts after she was no longer a caregiver but a friend. Carol's hospice nurse Luann became her friend and a great source of comfort to Carol's sister Debbie. Her weekly visits brightened both Carol and Debbie's day. She enjoyed visiting with her caseworker Stephanie once a month, but she was always insisting we hurry up and go eat, making Stephanie laugh.
In addition to her parents, Carol was preceded in death by her nephew, Ethan Keever Bennett.
Carol is survived by her loving caregivers, who were also her sister and brother-in-law, Debbie Keever and Ken Bennett of Statesville. Other family left to cherish her memory include sister Judy Wilson, brother Link Keever (Cindy), nieces Tamra Wilson (Roger) and Talisha (Chad) Logan; nephews Rocky (Atina) and Russell (Amber) Keever, great nieces and nephew, Brianna and Brooklyn Roberts, Callie Logan, Charlotte Keever, and William Keever.
Memorial Service will be held on Saturday, February 1, at 3 p.m. at Carol's home church, Hiddenite Baptist Church. The family will receive friends following the service at the church. Memorials may be given to Hiddenite Community Helpers Food Pantry, c/o Hiddenite Baptist Church, 250 Hiddenite Church Road, Hiddenite, NC 28636.
Chapman Funeral Home is serving the family.