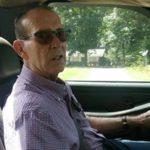 Bobby Ray Johnson, 65, of Mooresville, N.C., passed away on Tuesday, March 24, 2020.
He was born on July 21, 1954, in Marion, N.C., to the late William and Ruth Phillips Johnson. He was a retired truck driver of 48 years.
In addition to his parents, he was preceded in death by sister, Nyoka Yates; brothers, Leonard, Earnest, Ricky, and David Johnson; and granddaughter, Sasha Lynn Johnson.
He is survived by his wife of 46 years, Sandra "Sandy" Bowles Johnson; children, Jeremy Lee Johnson and David Heath Johnson (Angie); and granddaughters, Claira, Ivy, and Victoria Johnson.
A graveside service will be held at 2 p.m. on Friday, March 27, at Glenwood Memorial Park. For those who are unable to attend the service, it will be live streamed on the Cavin-Cook Funeral Home & Crematory Facebook page).
In lieu of flowers, memorials may be made to Make-A-Wish Central & Western North Carolina, 217 E. Tremont Avenue, Charlotte, NC 28203.
Cavin-Cook Funeral Home & Crematory, Mooresville, is serving the Johnson family. Condolences may be made to the family at www.cavin-cook.com.