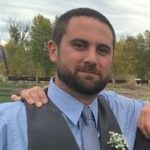 Christopher Kimmons Craven, known by his family and friends as "Chris" or "Catfish," 38, passed away on Sunday, August 2, 2020.
He was born on November 13, 1981, in Charlotte, N.C., to Beverly Covington and Henry Kimmons "Kim" Craven Jr. Chris was a 2000 graduate of Mooresville High School. He was employed with Hendrick Motorsports for 15 years. He loved his family and enjoyed preparing meals for them and his friends; he was the perfect host and made everyone feel welcome. Chris made it a priority to take care of neighbors, friends and family when there was a need. He lived to help others. Chris loved being outdoors, camping and hunting.
Chris was preceded in death by his paternal grandparents, Henry and Laura Craven.
In addition to his parents, he is survived by his wife of 13 years, Amy Rhinehardt Craven; children, Raleigh Craven, Macie Craven, and Taylor Dunn; sister, Taylor Craven and husband Wade Brown; maternal grandparents, Jimmy and Nancy Covington; and his furry companions, Copper and Luna.
The family will receive friends on Sunday, August 9, from 6:30 to 9 p.m. at Cavin-Cook Funeral Home. Funeral services will be held at 2 p.m. on Monday, August 10, at the funeral home with Chaplain Donnie Floyd officiating. Burial will be private.
Memorials may be made to Nazareth Child & Family Connection, P.O. Box 1438, Rockwell, NC 28138.
Cavin-Cook Funeral Home & Crematory, Mooresville, is serving the Craven family. Condolences may be made to the family at www.cavin-cook.com.