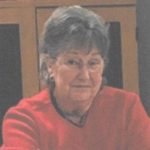 Cora Mae Worley Gunter, 78 of Statesville, N.C., passed from her earthly life to her heavenly home on Friday, April 17, 2020, at Wake Forest University Baptist Medical Center, following a period of declining health.
She was born June 18, 1941, in Wilkes County, N.C., the daughter of the late Isaac B. Worley and Dossie Baity Worley.
Cora Mae graduated from Stony Point High School and the former Statesville Business College. She also took several classes at Mitchell Community College. She was retired from Interstate Equipment Company after more than 40 years of employment. During the time her late husband owned Troutman Hardware, she did all the accounting for the store. She was a former member of The South MeDeri Chapter of American Business Women's Association, and a former volunteer at Iredell Memorial Hospital and Iredell Christian Ministries. She served as a poll judge during elections for the Board of Elections until her health required her to resign. Mrs. Gunter was a member of Shiloh United Methodist Church in Statesville. Other than her extended family, the loves of her life included church activities and traveling with her husband as her health permitted. Her love of travel had taken her to 48 of the 50 states and 24 foreign countries, some of which she returned to visit on different occasions.
In addition to her parents, she was preceded in death by a brother, William "Joe" Worley, on February 10, 1988; a nephew, Robert Neill Worley on January 2, 2015; and husband, Henry A. Trent Sr. on August 23, 2004.
She is survived by her husband, Arville "Jack" Gunter, whom she married March 17, 2006; two step-sons, Blake Gunter and Matthew Gunter of Love Valley, N.C.; mother-in-law, Jeanie Gunter; sister-in-law, Elizabeth "Libby" Rimmer (Craig), all of Statesville; brother-in-law Michael Gunter of Troutman, N.C.; sister-in-law Della Williams of Taylorsville, N.C.; one nephew, three nieces and a number of cousins. In addition, she is survived by special friends Robin Alexander and Naomi Callagher of Perth, Western Australia.
Funeral services are scheduled for Wednesday, April 22, 2020, at 2 p.m. in the Nicholson Funeral Home Chapel with Rev. David Miner officiating. Burial will follow at Hunting Creek Baptist Church Cemetery in Wilkes County, where she will be laid to rest beside her parents. The family will visit with friends Tuesday, April 21, 2020, at Nicholson Funeral Home from 6:30 to 8:30 p.m.
In lieu of flowers, the family requests that memorials be made to Hunting Creek Baptist Church, c/o Teresa Richardson, P.O. Box 865, North Wilkesboro, NC 28659 or to Shiloh United Methodist Church, 742 Shiloh Road, Statesville, NC 28677.
Nicholson Funeral Home is serving the Gunter family.