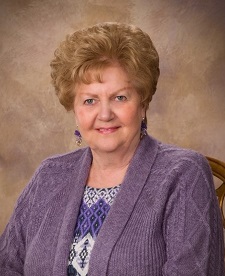 Hazel Imogene Miller Davis, 87, of Statesville, N.C., entered eternal life with her Lord and Savior on April 18, 2020, at the Gordon Hospice House. She was Jean or Sissy to those who knew and loved her. Her sweet spirit will live on in her beloved husband of 58 years, Cecil Davis; her two children, Michael Davis (Robert Greathouse) of Pinehurst, N.C., and Kelli Vance (Ted) of Statesville. She is also survived by two brothers, Herman Miller of Peoria, Ill., and Paul Miller (Marie) of Wilmington, N.C.; as well as three grandsons, Zac Vance (Lindsay) of Asheboro, N.C., and Will and Logan Vance of Statesville; as well as one great grandson, Benjamin Vance. Her life also touched a host of nieces, nephews, friends, and family too numerous to name, but all were loved and cared for by Jean. She was preceded in death by her parents, Alfred and Myrtle Miller, and one son Randy Hale.
Born on March 20, 1933 at Rum Creek, W.Va., she attended Logan County schools and the Huntington Business College. She worked for the telephone company in Logan, W.Va., where she met Cecil. They were married on July 22, 1961, and she devoted herself as a caregiver to her family and many friends. She and Cecil spent many years in Logan, where they raised their family before retiring to Wilmington, N.C., and ultimately Statesville, where they have lived for 25 years.
Jean had a smile that could light up a room and an infectious laugh that made all who knew her love her. She was a faithful servant of Christ, serving as a youth leader, Sunday School teacher, auxiliary worker, and event organizer. She was a long-time member of Central United Baptist Church in Logan, W.Va., and Western Avenue Baptist Church in Statesville. Her hospitality was legendary and her cooking skills unparalleled. Everyone was welcome in her home and knew they would be well fed, cared for, and entertained while there. Hers was a life of service caring for her parents, children, and many dear friends in ways that often went unnoticed, but were essential nonetheless. Heaven has surely welcomed her with open arms.
A memorial service for immediate family will be held at Western Avenue Baptist Church on Tuesday April 21, 2020, at 2 p.m. It will be live streamed from the church's Facebook page (www.facebook.com/wabctv) and the church's YouTube Channel (www.youtube.com/wabcvideo) so that friends and family unable to attend because of the COVID-19 restrictions can be witness to her tribute. Dr. Jeff Spry and Dwaine Menscer will officiate with music by Mark Collins.
The family wishes to extend a special tribute to Lena Garibyan for her tireless care for Jean these past few months, and also a special thanks to Doctors White and Bouhoussein, and all the staff at the Gordon Hospice House.
In lieu of flowers, please consider a donation to Iredell/Statesville Young Life, 828 Wesley Drive, Statesville, NC 28677 or giving.younglife.org, Western Avenue Baptist Church (https://www.westernavenue.org/give) or Gideon's International (https://www.gideons.org/donate) in her name.
Online condolences may be made to the family at www.troutmanfuneralhome.com.
Troutman Funeral Home is handling the arrangements. A celebration of Jean's life will be scheduled at a later date.