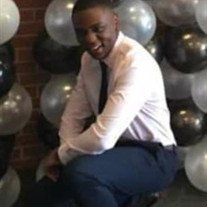 David Lee Louissaint, 16, of Mooresville, N.C., passed away on Tuesday, July 7, 2020.
He was born on February 20, 2004, in Orlando, Fla., to David Louissaint and Jeanne Medna. David was a student at South Iredell High School. He loved to sing, old music and Jazz, traveling, cooking, photography, and spending time with senior citizens. He also enjoyed school and was very interested in politics and law; he admired JFK and Obama. David loved Reese's Cups and cupcakes. He loved his family and friends, helping others and making people smile; whatever he did for others he did from his heart.
He was preceded in death by a paternal grandmother, Marthe Louissaint.
In addition to his parents, he is survived by his sisters, Diana Louissaint, Nadine Medna, Christele Medna, and Nina Lubin; brother, Jean Lubin; paternal grandfather, Leon Louissaint; aunts, Mary France Disir, Marie Louissaint, Gladys Louissaint (Raynald), Malia Louissaint (Bernard Castre), Josette Louissaint (Jonas Hilaire); uncles, Vena Louissaint (Mareille), Ben Louissaint (Daphne), Poulard Louissaint (Fabiola); and numerous cousins that he loved.
The family will receive friends on Thursday, July 16, from 1 to 2:30 p.m. with a service following at 2:30 p.m. at Heritage House of Cavin-Cook Funeral Home. Burial will follow the service at Glenwood Memorial Park.
In lieu of flowers, memorials may be made to David's family.
Cavin-Cook Funeral Home & Crematory, Mooresville, is serving the Louissaint family. Condolences may be made to the family at www.cavin-cook.com.