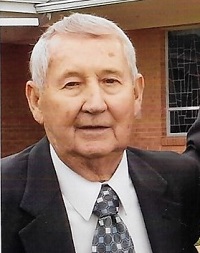 Espy Paul Gregory, 87, of Statesville, N.C., passed away, Sunday, July 19, 2020, at his home.
Mr. Gregory was born August 15, 1932, in Iredell County and was the son of the late Arthur and Della Mae Goble Gregory. He was a graduate of Celeste Henkel High School and served in the U.S. Army during the Korean War from 1951 to 1953. On June 7, 1952, he married the late Thelma Geneva Miller Gregory, who passed away May 13, 2014. Following his service to his country, he worked for Carnation Milk and later worked for Fiber Industries in Salisbury and Florence, S.C., for many years. He enjoyed gardening and watching the Atlanta Braves, UNC Tarheels, and NASCAR. He believed you should plant your tomato seeds on April 1 so you can eat them on July 1.
He is survived by three children, Tony Gregory (Tammy) of Statesville, Roger Gregory (Theresa) of Maryville, Tenn., and Kathy G. Nixon (Rick) of Marietta, Ga.; five grandchildren, Timberly Gregory, Daniel Gregory, Kelsey N. Shepperd, Ryan Nixon, and Reed Nixon; three great grandchildren, Kaden, Eveylnn and Tucker Shepperd, along with four siblings, Marie G. Houston, Shirley G. Shaver, Wanda G. Potts and Jimmy Gregory, all of Statesville.
In addition to his wife, he was preceded in death by two sisters, Betty G. Lippard and Margaret Ashley; and two brothers, Glenn and Bill Gregory.
Graveside funeral services will be held at 4 p.m. on Tuesday, July 21, 2020, at Sharon Lutheran Church Cemetery with Pastor Paul W. St. Clair officiating. Mr. Gregory will lie in state at Troutman Funeral Home on Tuesday from 12 to 3 p.m.
Memorials may be made to Sharon Lutheran Church, 2135 Island Ford Road, Statesville, NC 28625 or Hospice and Palliative Care of Iredell County, 2347 Simonton Road, Statesville, NC 28625. Online condolences may be made to the family at www.troutmanfuneralhome.com.
Troutman Funeral Home is serving the family.