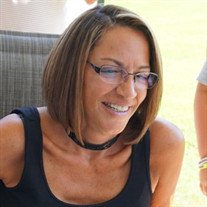 Mrs. Maria Ann Pabon Martinez, 56, of Statesville, N.C., died Saturday, July 18, 2020, at Wake Forest University Baptist Medical Center. Born in New York on July 30, 1963, she was a daughter of the late Raymond Pabon and Bella Schaefer Pabon, who survives. She was an RN in the emergency room and later at the Dialysis Center in Statesville.
Survivors include her husband, Ray; two sons, Andrew Martinez (Helena) and Matthew Martinez (Leann); two brothers, Steven Pabon (Nancy) and Michael Pabon (Susan); along with a sister, Millie Zamora (Louie). Also surviving are a step sister, Yvette Fine (Brian); her mother-in-law, Maria Silva; and three grandchildren, Nolan, Anna and Sofia.
Funeral services are scheduled for 10 a.m. on Wednesday, July 22, at Nicholson Funeral Home with Rev. James Lewis officiating. The family will receive friends Tuesday evening at Nicholson Funeral Home from 6 to 8 p.m. Burial will follow in Oakwood Cemetery. Visitors are requested to please wear a mask to the visitation and service.
Condolences may be sent online to the family to www.nicholsonfunerals.com.
In lieu of flowers, memorials may be given to: The West Iredell Dialysis Center, 115 Westbrook Lane, Statesville, NC 28625, The Iredell Memorial Hospital Institute for Nursing Excellence, 557 Brookdale Drive, Statesville, NC 28677 or to any of the nursing scholarship programs at Mitchell Community College, 500 W. Broad Street, Statesville, NC 28677.
Nicholson Funeral Home is serving the family.