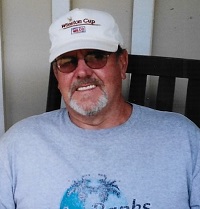 Gene Conrad Moose, 76, of Statesville, N.C., passed away Thursday, May 28, 2020, at the Gordon Hospice House.
Mr. Moose was born March 17, 1944, in Iredell County and was the son of the late Jay Conrad Moose and Vee Mary Benfield Moose. He attended Iredell County schools and on February 6, 1981, he married Joanne Kelly Moose, who survives. He was a member of Beulah Baptist Church and worked for Commscope for 28 years. He loved fishing, gardening and talking with friends and friends. "Gene never met a stranger."
In addition to his wife, he is survived by one daughter, Gina Anne Moose of Statesville; and two brothers, Lynn Moose of Statesville and Steve Moose of Shelby.
A memorial service will be held at 3 p.m. on Sunday, May 31, 2020, at Troutman Funeral Home.
Memorials may be made to the Gordon Hospice House or Beulah Baptist Church. Online condolences may be made to the family at www.troutmanfuneralhome.com.