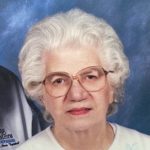 On Friday, March 27, 2020, Jennie MacLeod, 92, from Mooresville, N.C., passed away peacefully at her Nursing Home in Mooresville with her husband, Frank MacLeod, by her side. Jennie was a gentle sweet, compassionate woman, and a devoted wife, mother, and sister. She will very much be missed by all that knew her.
Jennie was the daughter of John Falce and Mary Vendrella Falce of Hartford, Conn., where Jennie spent the majority of her life. She and her husband Frank have lived in Mooresville since 1999. Jennie was predeceased by her mother, Mary Ventrella; father, John Falce; and brothers, Jim Falce, Carmen Falce, and Peter Falce and their wives, Mary Falce, Virginia Falce, and Norma Falce, all of who previously lived in Hartford.
She is survived by her loving husband of 70 years, Frank MacLeod; her daughter, Karen Montgomery; her son, Douglas MacLeod; her granddaughter, Katherine MacLeod; her son-in-law, Hugh Montgomery; and her daughter-in-law, Laura MacLeod.
A memorial service for Jennie will be held at a future date. Her church of worship was Living Waters in Mooresville. The funeral arrangements will be handled by Cavin-Cook Funeral Home in Mooresville.
In lieu of flowers, memorials may be made to:
♦ American Diabetes Association, P. O. Box 15829, Arlington, VA 22215
♦ Alzheimer's Association Western, Carolina Chapter, 4600 Park Road, Suite 250, Charlotte, NC 28209
♦ Living Waters Church, 761 River Hwy, Mooresville, NC 28117
Cavin-Cook Funeral Home & Crematory, Mooresville, is serving the MacLeod family. Condolences may be made to the family at www.cavin-cook.com.