The Alzheimer's survival rate remains at zero.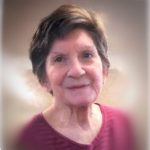 Born on February 15, 1939, Karen Faye Miller Wyatt Nash was a daughter of the late George Grant and Johnsie Sheets Miller. She graduated from Miller's Creek High School in 1955. She passed away on March 28, 2020.
Karen's former employers include JC Penney's (downtown location), Harris & Pressley Law Office and Statesville Auto Auction.
After marrying Larry W. Nash on April 28, 1984, Karen joined Beulah Baptist Church, where she remained active until her health declined, in the Co-Ed 8 Sunday School Class and the Golden Harvesters.
She was preceded in death by her parents and by Larry, who passed away unexpectedly on May 27, 2001.
Karen is survived by her son, Philip R. Wyatt of Atlanta, Ga., and by her daughter, Sandra (Jim) Wyatt Beard of Statesville. Her granddaughter, Aria Danielle (Dani) Beard, resides in Powell's Point, N.C.
Three sisters and two brothers also survive, Audrey (Raymond) Sheets, Kay (Eugene) Sheets, Danny (Mary) Miller and Ronnie (Donna) Miller, all of Miller's Creek, N.C., and Janice (Allen) Estes of Statesville. Several nieces and nephews also survive. She was especially fond of her nephew, Joey Sheets.
Additional survivors include Larry's children, Roger (Nicolette) Nash, Teresa (Jeff) Gregory, Robbie (Treva) Nash and Andrea Williams, as well as Larry's grandchildren.
Karen will lie in state at Troutman Funeral Home on Monday, March 30, 2020, from 9 a.m. to 5 p.m. In respect for the health of everyone and in keeping with the coronavirus restrictions, the family will have a private graveside service.
Memorials may be given to Beulah Baptist Church, 1851 Old Mountain Road, Statesville, NC 28677 or to Community Home Care & Hospice, 1308 Davie Avenue, Statesville, NC 28677. Online condolences may be made to the family at www.troutmanfuneralhome.com.
The family expresses sincere appreciation to the staff of Heritage Place for their loving care they provided to Karen since October, 2017 and to the staff of Community Hospice for their kindness and care during Karen's final weeks.
Troutman Funeral Home is serving the family.