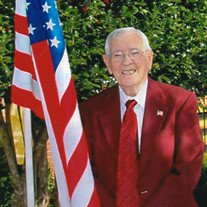 James David "J.D." Chamberlain, 101, of Mooresville, N.C., died on Friday, March 27, 2020. The former co-owner and publisher of the Mooresville Tribune, who also was an active and respected church and civic worker, moved to his eternal home in Heaven, leaving a loving and grateful family and numerous dear friends and colleagues with many memories and stories to celebrate and cherish.
J.D. is survived by son David Chamberlain (Donna), daughter Donna C. McConnell (Bill); grandchildren, Dennis Chamberlain (Leticia), Dan Chamberlain (Alyse), Kelli M. Wolf (Joey), and Guy McConnell (Jackie); six great grandchildren, Mateo, Zaki, and Sofia Chamberlain, Harper and M.J. Wolf, and Kennedy McConnell; sisters-in-law, Marion S. Chamberlain and Sue Kyles; and brother-in-law M.W. (Nick) Nixon.
He was preceded in death by his parents, James Lon and Sallie Christopher Chamberlain, and by his wife of 63 years, Nelda W. Chamberlain; son, Chester Steven Chamberlain; brothers, Roy, Banks, and James Chamberlain; and sisters, Edna Morrow, Lillian Morrison, and Nadine Nixon.
J.D. was a WWII Navy veteran, serving on two aircraft carriers, both named the Block Island. The first fought enemy vessels in the Atlantic until it was torpedoed and sunk by a Nazi sub. The new Block Island carried the war to the Japanese in the Pacific where J.D. continued his assignment as a radioman 2nd Class. Prior to the war, J.D. graduated from high school in 1936 at the Junior Order of United American Mechanics Children's Home in Tiffin, Ohio, with a major in printing and working as the school's athletic student manager. Before and after the war, J.D. worked at newspapers in Statesville, Mooresville, and Kinston, and taught printing and Linotype at Danville (Va.) Technical Institute.
In 1952, J.D. moved to Mooresville to manage the Tribune. In 1968 he and editor Len Sullivan bought and ran the newspaper until they sold it in 1986. J.D. was an active worker and leader in Mooresville's First Baptist Church, serving on several pastor search committees and being treasurer for many years. Likewise, he worked in a number of civic organizations including the Mooresville Chamber of Commerce, the Iredell County Industrial Bonds Commission, and the Optimist Club.
A funeral will be held at 2 p.m. on Sunday, March 29, at Cavin-Cook Funeral Home with Rev. Eddie Hicks officiating. Due to the coronavirus outbreak, ushers will assist with social distancing and maximum allowable group size. After the funeral, the body will lie in state until 4 p.m. for paying last respects, and family will be available in groups of five or less. Links to watch the funeral live or to view later can be found HERE.
In lieu of flowers, memorials may be made to Hospice & Palliative Care of Iredell County, Mooresville Capital Campaign, 2347 Simonton Road, Statesville, NC 28625 or First Baptist Church Debt Reduction or Music Ministry, 150 S. Church Street, Mooresville, NC 28115.
Cavin-Cook Funeral Home & Crematory, Mooresville, is serving the Chamberlain family. Condolences may be made to the family at www.cavin-cook.com.