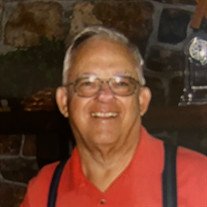 James Murray DeYoung Jr., 78, of Mooresville, N.C., passed away on Tuesday, March 3, 2020, at the Citadel of Mooresville.
He was born on December 22, 1941, in Mecklenburg County, N.C., to the late James and Mamie Fowler DeYoung. Mr. DeYoung was a U.S. Marine veteran and served in the Vietnam War. He was a graduate of Charlotte College and retired from Duke Power after 29 years.
He is survived by his wife, Barbara Ritch DeYoung; children, James DeYoung III and his wife Elizabeth, Erin Rowland and her husband Brad; the light of his life, his grandson, Jacob DeYoung; sister-in-law, Susan Clark and her husband John; special friends Garren and Nancy Watkins; and his furry friend, Margaret.
A Celebration of life will be held at a later date.
Memorials may be made to American Parkinson Disease Association, 601 E. Fifth Street, Suite 140, Charlotte, NC 28202.
Cavin-Cook Funeral Home & Crematory, Mooresville, is serving the DeYoung family. Condolences may be made to the family at www.cavin-cook.com.