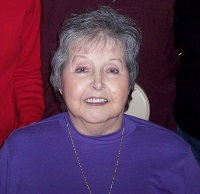 Lucille Hill Hastings, 79, of Statesville, N.C., passed away on Tuesday, April 14, 2020, at Accordius Health of Statesville.
Lucille was born April 19, 1940, in Mecklenburg County and was the daughter of the late Pearl Quincy Hill and Cleona Gardner Hill Huntley. She attended schools in Mecklenburg County, worked for Troutman Industries for over 20 years and retired as a CNA.
She is survived by three children, Rhonda Worrell (Richard) of Statesville, Thomas Turner (Robin) of Hickory, and Chrystal Rucker (Anthony) of Statesville; 13 grandchildren; 14 great grandchildren; and five siblings. She was preceded in death by one son.
Memorial service will be held at 2 p.m. on Friday, April 17, 2020, at Fern Hill Baptist Church.
Troutman Funeral Home is serving the family of Lucille Hill Hastings.