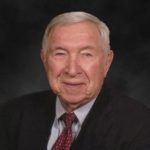 Mack Joseph Crabb, 92, of Mooresville, N.C., passed away on Friday, March 6, 2020. He was born on August 6, 1927, in Wilkes County to the late James Carter Crabb and Ola Dancy Crabb.
In addition to his parents, Mr. Crabb was predeceased by his first wife, Annie Blackwelder Crabb; a daughter, Beverly Brawley; and brothers, Howard, Monroe and Bobby Crabb.
Mr. Crabb was a member of Southside Baptist Church in Mooresville, N.C.
He is survived by his wife of 27 years, Sue Little Crabb; daughter, Donna Davis (Bob); son, M. Joseph "Joe" Crabb Jr; step-daughters, Susan Gamble (Frank) and Sherrie High (Larry); sister, Helen Crabb Pope; grandchildren, Kristen Sandor, Shara Fisher, Blaine Brawley (Angie), Jason Brawley (Jennifer), Haley Hanson (Steven), Blake Brawley and Matthew Boone (Amy); and great-grandchildren Anna, Jessie, Caleb, Morgan, Aliyah, Aaron and Kaleel.
The family will receive friends on Monday, March 9, from 5 to 7 p.m. at Cavin-Cook Funeral Home & Crematory. Funeral services will be held at Southside Baptist Church, Mooresville, at 2 p.m. on Tuesday, March 10, with the Rev. Mark Ball officiating. Burial will follow at Glenwood Memorial Park, Mooresville, N.C.
Memorials may be made to Southside Baptist Church, General Fund or RA's, 525 S. Broad Street, Mooresville, NC 28115.
Cavin-Cook Funeral Home & Crematory, Mooresville is serving the Crabb family. Condolences may be made to the family at www.cavin-cook.com.